Concern over lax attitude in adopting new surgical procedures
Role of technology for cardiovascular diseases under scanner
New Delhi, October 2
Delivering the keynote address at a cardiology conference in the city on "The role of technology and its implications on cardiovascular diseases", Dr Atul Mathur, senior interventional cardiologist, Escorts Heart Institute, expressed concern about the lax attitude among healthcare providers in the country to adopt new procedures beyond conventional surgery in the rapidly changing heart care scenario, especially in the era of stem cell research and newer non- surgical techniques.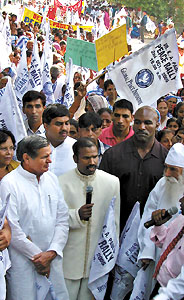 Delhi Health Minister Yoganand Shastri and former World Heavyweight Boxing champion Evander Holyfield during a peace march on the occasion of 136th birth anniversary of Mahatma Gandhi at Rajghat in the Capital on Sunday. — Tribune photo by Rajeev Tyagi
Sacked mechanics to get compensation after 26 years
New Delhi, October 2
Twenty-six years after two mechanics were thrown out of their jobs by Autocentre Workshop here, the Delhi High Court has ordered the employer to compensate them for the mala fide closure of the establishment.
Don't allow frequent undertrial-kin meets, judicial officers told
New Delhi, October 2
A District Judge has directed judicial officers in the Capital's trial courts not to allow frequent meetings between undertrials, who are in judicial custody, and their relatives inside the court premises.
IPGA wants modification in qualification for pharmacists
New Delhi, October 2
The Indian Pharmacy Graduates Association has demanded that their long-standing demands on giving pharmacy its due recognition should be implemented without delay so that they can play a larger role in India's emerging transformation as a hub for global clinical trials.
Noida Telecom completes five years
Noida, October 2
Noida Telecom completed five years of providing the fastest and the cheapest services to the people of Gautam Budh Nagar district yesterday. Enumerating the achievements of the five years, the General Manager, Noida Telecom, Mr A. K. Garg, said, "Our Internet services, Internet leased lines and broad band are the best, fastest and the cheapest.
Top international companies at Greater Noida trade fairs
Greater Noida, October 2
A large number of companies including 11 from Germany, 2 from USA and one each from Russia, Belgium, Switzerland and France are participating in the three-day exhibition put up at the India Exposition Centre in Greater Noida from October 1 to 3. The exhibition is being organised by Cidex trade fairs, a joint venture of Dusseldor and Koetnmesse International.
596 cases disposed of at Lok Adalat
Gurgaon, October 2
As many as 596 cases were disposed of in a Lok Adalat held here yesterday. According to the official version, in all 1490 cases were put up for consideration of the adalat, which was presided over by the District and Sessions Judge, Mr S. D. Anand.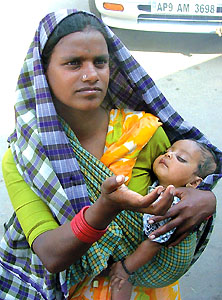 Surviving is an everyday struggle.
— A Tribune photo

Sweets given to inmates of
blind school
New Delhi, October 2
On the occasion of Gandhi Jayanti and birth centenary of former Prime Minister Lal Bahadur Shastri, Delhi Pradesh Congress Committee president Ram Babu Sharma today distributed walking sticks, fruit, sweet packets and towels to the inmates of Andh Vidyalaya, a blind school at Pachkuian Road.
'Make police aware of human
rights importance'
New Delhi, October 2
The youngest human rights activist, Natasha, who is a student of class X, today stressed the importance of human rights awareness by the police personnel and the need to implement them. She was speaking at a seminar, "Human Rights and Police Forces", organised by the CRPF at the precincts of its 73 Battalion.
Faridabad DAV school to have new principal
Faridabad, October 2
Mr S.S. Chaudhary is slated to take over as new principal of the DAV Public School in Sector-14 here. He is likely to assume charge on October 3, from the outgoing Principal Mr A.V. Bhalla, who retired from the post on September 30 after several years of service.
Artscape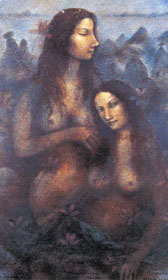 A concert in tribute to the apostle of peace
New Delhi, October 2
There could not have been a better or more appropriate tribute to the apostle of peace than the 'Peace Concert' organised by the Hungarian Information and Cultural Centre here on Saturday evening to commemorate the 136th birth anniversary of Mahatma Gandhi. The musical tribute rendered beautifully by the Capital City Minstrels, one of the best known choir groups of the city, left the audience visibly moved as they rendered some of the songs close to the heart of the Father of Nation.

'The Icon' at Lalit Kala Akademi


Commitment to conservation


Celebrating excellence

A painting of Radha in 'Turkishbath' by Suhas Roy

Journalist's house burgled in Noida
Noida, October 2
After breaking open the lock of a journalist's house No 83 in O block of Sector-12, Noida, thieves decamped with gold jewellery and valuables besides Rs 5,000 in cash.
Two brothers held for selling govt land
Ghaziabad, October 2
Three bigha government and farmers' land in Bhikenpur village has been palmed off by two brothers. On the complaint of the actual owners of the land, the SDM, Sadar, has filed an FIR and got the accused arrested.