Conclave not for pulling up CMs: Ambika Soni
Chandigarh, October 3

Contrary to the popular perception, the purpose of the sixth two-day conclave of the Congress Chief Ministers, which will be inaugurated by the AICC President, Mrs Sonia Gandhi, here on October 7, is not to pull up "non-performing" Chief Ministers.


The Chief Ministers of Punjab and Haryana, Capt Amarinder Singh and Mr Bhupinder Singh Hooda, go through the publicity material for the Congress Chief Ministers' conclave as Mrs Ambika Soni and Mr Moti Lal Vora look on in Chandigarh on Monday.
— Tribune photo by Manoj Mahajan

Punjab to develop commercial hubs
Mohali, October 3
The Punjab Small Industries and Export Corporation has formulated a policy to develop commercial hubs across the state. The hubs would be located in the various focal points across Punjab and would include a multiplex, a shopping mall and a hotel among other commercial components.
High priests under fire for preferring Europe, USA
Amritsar, October 3
The Sikh high priests, including Jathedars of five Takhts, have come under attack from the Sikh Panth for failing to visit any Sikh gurdwara in Pakistan in the last more than two-and-a-half decades while they had undertaken a number of 'religious journeys' to the USA, UK, Vatican City or other European countries where no historical gurdwara exists.
NRI donates $1m for Indian music chair in US
Chandigarh, October 3
A Ludhiana-born non-resident Indian, Dr Mohinder Sambhi has donated $ 1 million to set up an Endowed Chair in Indian music at the University of California, Los Angeles.


Differences over naming of candidate
Majitha (Amritsar), October 3
Fissures in Shiromani Akali Dal (SAD) have come to the fore over the candidature for the Assembly elections to be held next year. The local leaders of the area in a rally yesterday projected Mr Jagteshwar Singh Majithia, grandson of former Revenue Minister Late Parkash Singh Majithia.


Gastro cases on the rise
Phagwara, October 3
There seems to be no let-up in the rise of gastroenteritis cases in Onkar Nagar locality here as three fresh cases were reported today taking the number of patients suffering from the disease since Friday to more than 200.
Row over land for Sectt
Fazilka, October 3
The proposal for providing land for construction of a Mini Secretariat in Fazilka has run into a controversy.
Record of 'unqualified staff' presented
Amritsar, October 3
The Civil Surgeon, Dr Surinder Pal Singh Sohal, has written a fresh letter to the SP (Vigilance) presenting a record of "unqualified staff", recruited in the District TB Hospital, some of them had got the job by providing, "fake experience certificates".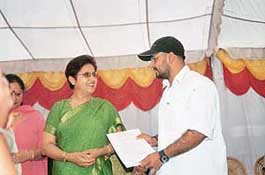 Reforming jail inmates at Patiala
Patiala, October 3
For inmates of the Central Jail here, the Sunday morning marked a new beginning. Tiding over rebellion, pain and growing isolation these 1500 odd inmates gathered at the sprawling, highly walled grounds of the jail and awaited to experience a sense of liberation and an opportunity to put forward their reformed personalities though under the constant vigil of the jail's security.
Dr Kiran Chadha, Director, International Cooperation, Ministry of Defence, giving a certificate to Mandip Gaur.

Rail passengers protest
Hoshiarpur, October 3
Passengers of the Him Giri Express threw stones on the Railway Station here demonstrated and raised slogans against Railway authorities for not allowing the train to move from Unchi Bassi, railway station of Hoshiarpur district on the Jalandhar-Pathankot section today.
Body parts found on college campus
Amritsar, October 3
Parts of a human body were found scattered outside mortuary on the government-run medical college campus this morning. Human organs were believed to be dug out by stray dogs, which raised serious questions about the upkeep of the college.
A police station with a difference
Muktsar, October 3
It's a police station that attracts attention instead of triggering a feeling of fear. At a time when most of the people are fearful of approaching the police with their problems and try to sort out the matter at their own level, a revamped Sadar police station is set to change their outlook about a police station.
Council clears business for Assembly session
Chandigarh, October 3
The Punjab Council of Ministers at its meeting held here under the chairmanship of the Chief Minister, Capt Amarinder Singh, today approved the business to be transacted in the Punjab Assembly session scheduled to begin on October 5.
Power situation grim in state
Gurdaspur October 3
The paddy season is over. However, the state still had to subject power cuts from for to 4 hours in urban areas and 8 hours in rural areas.
House demolition to be probed
Amritsar, October 3
Ms Vibhu Raj, SSP, Majitha, today marked an inquiry into the demolition of the house of a retired teacher by the head sevadar of Gurdwara Tahli Sahib located on the Ajnala-Chuganwa road here.
Enact telemedicine law, says IMAI
Amritsar, October 3
The members of the fourth two-day National Biennial Conference of the Indian Association of Medical Informatics on the concluding day yesterday unanimously decided to urge the Central government to enact tele-medicine law on the line of IT law.
MC chief accused of bias
Amritsar, October 3
A war of words has started between the local Municipal Corporation Commissioner and management of Durgiana Temple following a letter to the chief of the temple management to demolish the shops constructed on the leased land meant for a school.
SGPC member opposes panel to review 'maryada'
Amritsar, October 3
Taking a serious note of the constitution of 13-member committee by the Sikh clergy, to review 'maryada' approved by the SGPC and Akal Takht, a senior member of the SGPC, Mr Jaswinder Singh Advocate, sought the convening of a special session of the Shiromani committee.
Pension backlog cleared
Fatehgarh Sahib, October 3
The local Social Security Department has disbursed all type of pensions to beneficiaries up to August 2005, and cleared the backlog of pensions from July, 2004 to September 2004, by distributing Rs 1.32 crore to 22,017 beneficiaries of the district, Ms Amrit Bala, District Social Security Officer, said.
Vet officers seek NPA on pattern of Haryana, HP
Mohali, October 3
The Punjab State Veterinary Officers Association, at a meeting held here today, urged the state government that non-practising allowance, being paid to their counterparts in Haryana and Himachal Pradesh, the Remount Veterinary Corps, the Indian Council of Agriculture Research, and Punjab Agriculture University, Ludhiana, should also be given to them.
Labourers seek new industrial policy
Amritsar, October 3
Migrant labourers have demanded a new industrial policy for the holy city in view of the closing down of a majority of industrial units due to "wrong policies" of the government and terrorism.
Laboratory technicians hold protest
Gurdaspur, October 3
Laboratory technicians of the Health Department today staged a dharna outside the office of the Gurdaspur Civil Surgeon to press for their demands.


Hawara's wife produced in court
Sangrur, October 3
Balwinder Kaur, wife of Jagtar Singh Hawara, chief of the Babbar Khalsa International in India, Sukhdev Singh, a granthi of Dohla village (near Dhuri), who reportedly got performed the marriage of Balwinder Kaur with Hawara as a mediator, Amarjit Singh, Pargat Singh, Amrik Singh and Hardip Singh, were today produced in the court of Mr Jaspal Singh Chugh, Additional Sessions Judge (ad hoc), Fast Track Court, Sangrur.
high court
Poll petition
Chandigarh, October 3
The High Court on Monday restrained the Punjab Government from notifying the election of Mr Girdhari Lal Garg as President of the Khanaori Municipal Council in Sangrur.


Woman caught carrying charas
Pathankot, October 3
Smugglers are using needy women as carriers for transporting and delivering narcotics. The Pathankot police today trapped and arrested one such suspected carrier with 1.39 kg of charas.
Girls hostel robbery: 5 of gang held
Fatehgarh Sahib, October 3
The district police has claimed to have arrested a five-member gang of dacoits and recovered a pistol, live cartridges, toy pistol and its cartridges, iron rods, knives, and two Chetak scooters (sans numbers).
One more arrested in Nayagaon rape case
Chandigarh, October 3
The Special Investigation Team of the Punjab police probing the rape of a minor at Nayagaon three years ago arrested Labh Singh, an alleged associate of the accused, today.


Student leaders meet VC, Governor
Patiala, October 3
Leaders of the Punjabi University Students Confederation today met the Punjabi University Chancellor and Governor S.F Rodrigues on the university campus here today and apprised him of the problems being faced by them.
Staff shortage hits school functioning
Kharar, October 3
The 18-month-old Government Model Senior Secondary school is plagued with shortages that are adversely affecting academic work.
Panel for report on Shivalik school case
Ropar, October 3
The Joint Secretary, Minorities Commission, today sought a detailed report from the district administration about the circular issued at Shivalik Public School here, banning Sikh students from wearing kirpan and a heavy "kara".