It takes two to tango
Team India's captain-coach combination should build on a superb start, writes Abhijit Chatterjee
The Greg Chappell-Rahul Dravid combine augurs well for Indian cricket. With the astonishing 6-1 win over Sri Lanka, the captain and the coach have been able to mould a bunch of talented but under-performing players into a team of achievers.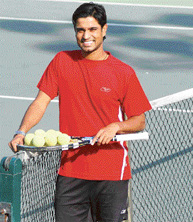 Court marshal
Vinod Kumar
He is said to be the next big thing in Indian tennis. Sunil Kumar Sipaeya, winner of the recently held DSCL Open National Tennis Championship, is known for his consistency and fighting spirit.

Sunil Kumar Sipaeya is a rising star in the Indian tennis firmament. — Photo by Pradeep Tewari

Chacha Pakistani
Abdul Jalil is using cricket to pursue his mission in life: bringing joy into the lives of his fellow Pakistanis. "There is so much poverty and illiteracy in Pakistan.

IN THE NEWS
Ace archer
Jharkhand never had it so good in sports. While Mahendra Singh Dhoni, who represents the state in the Ranji Trophy, was busy tormenting the Sri Lankan bowlers, Jhanu Hansda was hitting the bull's eye in the women's compound bow event at the Asian Archery Championship in New Delhi.