Punjabi writers meet fans
Amritsar, November 26
Short-story writers, who normally feel neglected by the government and fail to get due recognition, got a chance to interact with readers and admirers at the Heritage Festival here today.


Fusion moves ahead with Nusrat kin
Amritsar, November 26
Fusion music has added a new flavour to the pop which appeals to the younger generation. The exponents of the classical music have blended the new style compositions bringing about the qualitative changes for the ears of the generation next.
In video (28k, 56k)

Parveen Sultana sings bhajan
Pakistani play 'Naquab' to be staged

Vocalist Parveen Sultana performs at Khalsa College during the third Heritage Festival in Amritsar on Friday. — Photo by P.S. Gill

Plagiarism alleged in book released by INTACH
Amritsar, November 26
The book, "Amritsar The City of Spirituality and Valour", released by the Indian National Trust for Art and Culture Heritage today came in for a widespread criticism for alleged plagiarism.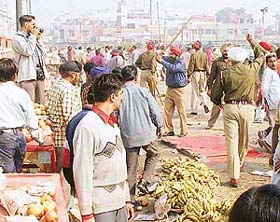 Policemen remove encroachments near the newly constructed bus terminal in Amritsar on Saturday. — Photo by Rajiv Sharma
Heed Mastan's advice,
Badal urged
Fatehgarh Sahib, November 26
Mr Iqbal Singh Tiwana, president of the World Sikh Mission, in a press note issued here today, has urged the SAD president to consider the advice of Mr Mastan Singh, president of the Pakistan Gurdwara Parbandhak Committee, in which he has urged all Sikh organisations to sink their differences and get united for the welfare of "Sikh Quam". He said Mr Badal must take initiative in this regard as he had all resources and if this goal was achieved, the Sikh community would find solution to all their problems immediately.
It's wedding time for politicians' families
Chandigarh, November 26
It is the season of high-profile weddings in Punjab. For VIPs, next week will be packed with engagements inviting them to such functions. Mrs Rajinder Kaur Bhattal, Deputy Chief Minister, is busy with pre-marriage ceremonies of her only son, Mr Rahul Inder Singh, who will be marrying Neha, daughter of Mr Niranjan Singh Chauhan of Shimla, on November 27.
Bazigars seek quota in govt jobs
Sangrur, November 26
Mr Sadhu Singh Dharamsot, Parliamentary Secretary, Home Affairs and Justice, PWD B&R, Punjab, and president of the All-India Bazigar Banjara Sabha, yesterday sought two per cent reservation in government jobs from the Punjab Government for the educated members of the Bazigar community.
Kainth for White Paper on development
Phillaur, November 26
Bahujan Samaj Morcha national president and former MP Satnam Singh Kainth has urged Chief Minister Amarinder Singh to release a White Paper on development works and the performance of the Congress-led government during the four-year Congress rule.
Open sale of medicines banned
Fatehgarh Sahib, November 26
To prevent any untoward incident by anti-social elements in the district, Ms Jaspreet Talwar, District Magistrate, issued an order today under Section 144 making it mandatory for all landlords to give list of their tenants along with addresses to the nearest police station.
Police clarifies on militancy-related cases
Chandigarh, November 26
The Punjab Police today categorically stated that it would only provide the "necessary support" to those police personnel who had fought against militancy and were being tried in cases pertaining to the terrorism period.
War widows felicitated
Bathinda, November 26
Continuing with its annual ritual of holding Veer Nari Meet, aimed at nurturing and taking care of war widows, Chetak Corps yesterday felicitated them and sensitised them on different welfare schemes.
Knitting contest for soldiers' families
Amritsar, November 26
A hand-knitting skills contest "Aao bune hum ek behtar kal" was organised here yesterday by Flaming Arrow Brigade, AWWA, in which 350 families of soldiers took part. The contest was sponsored by Vardhman Spinning and General Mills.
Folk music festival
Patiala, November 26
Punjabi University and the USA-based Punjab Heritage Foundation jointly organised a Punjabi folk music festival here today. Philanthropist Dr Rachhpal Singh Aujla, Ms Charlotte Aujla, Dr Sukhdev Singh Sidhu, Major-Gen Tarlochan Singh Aujla (retd), Dr H.S. Wealthy and Dr. P.P.S. Koonar were present on the occasion.


14,886 cases settled at Lok Adalat
Ludhiana, November 26
The concept of Lok Adalats is gaining momentum, particularly in Punjab. More and more people are coming forward to settle their disputes through Lok Adalats, claimed Justice Viney Mittal, a Judge of Punjab and Haryana High Court here today.

Sangrur tops in paddy procurement
Sangrur, November 26
The current paddy procurement season is almost over and the district has topped the paddy procurement in the state this year. It has procured 24,40,726 metric tonnes of paddy till November 22 while Ludhiana with 16,85,936 MTs and Patiala with 14,82,226 MTs were placed number two and three, respectively, till November 22.
Agriculture society for pricing of water
Ludhiana, November 26
The Indian Society of Agricultural Economics today recommended pricing of water and the withdrawal of MSP on early transplanted paddy and controlled supply of electricity to ensure its rational use.


Administrative, judicial complexes approved
Sangrur, November 26
The Punjab Government has approved administrative and judicial complexes for Dhuri and Malerkotla. It is expected that the work of the construction of the complexes at both places will start by the end of December.


Monsanto official, distributor booked
Muktsar, November 26
Following the complaint of a Gidderbaha-based dealer, a business manager of Monsanto India and one of its distributors have been booked for allegedly misleading the Agricultural Department and duping farmers.
Abducted woman returns with severed leg
Jalandhar, November 26
Sukhwinder Kaur, who was abducted on November 21 from a post office in the cantonment area, was found on the rail tracks in Panipat with a severed leg and a foot finger of the other leg. She is recuperating at the Civil Hospital here.

Punsup Inspector held
Patiala, November 26
The Patiala Vigilance Bureau here yesterday nabbed an Amargarh-based Punsup Inspector while he was taking a bribe from a Nabha-based commission agent.

3 arrested for firing incident
Hoshiarpur, November 26
The district police has rounded up Iqbal Kaur, wife of Manjit Singh of Harsi Pind, Sarabjit Singh of Ralhan village and Inderjit Singh of Kurala in connection with the firing at Adda Talhi, near Dholbaha, where four persons were shot dead and another was injured on the night of November 23.


Punjab showcases growth in power at trade fair
New Delhi, November 26
Showcasing its strides in the field of power and communications along with its traditional strengths in areas of food and agro-processing, Punjab pavillion at this year's India International Trade Fair has been attracting potential investors and casual shoppers.