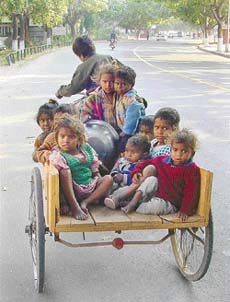 A boy tries to give a ride to children huddled in a rehri in Phase IX, Mohali, on Saturday. —Tribune photo by Vicky Gharu
Ray of hope for depositors
Chandigarh, December 25
A ray of hope has emerged for hundreds of people of the city, who have deposited lakhs of rupees with Prudential Capital Markets Ltd, a Kolkata-based company by way of fixed deposits and bonds.
Recall 2005
Murders, suicides kept cops on
their toes
Chandigarh, December 22
The incidents of murder, suicide, snatching and theft kept the Chandigarh Police on its toes throughout 2005 even as the police struggled to keep crime under check through various ''people-friendly'' schemes.
City flights cancelled yet again
Chandigarh, December 25
All three flights to and from Delhi to the city were cancelled again today. Officials at the Chandigarh Airport attributed the cancellation of the flights due to bad weather in Delhi. It was the fourth day today when the flights of Jet Airways and Air Deccan were cancelled.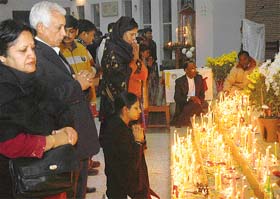 Devotees pray on the occasion of Christmas at the Sector 19 church in Chandigarh on Sunday.
— Tribune photo by Parvesh Chauhan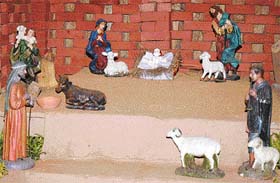 The Nativity Scene at the Sector 19 church on the occasion of Christmas in Chandigarh on Sunday. — A Tribune photograph
CTU staff told not to take part in strike
Chandigarh, December 25
The CTU Employee and Workers Union Chandigarh today made an appeal to CTU employees and workers not to participate in the December 26 strike.
Recall 2005
Balmikis' protest spoils town's image
Panchkula, December 25
Panchkula was caught in the national limelight this year- courtesy the arson and rioting by Balmikis in protest against the torching of houses of a certain community in Gohana.
X-mas greetings via SMS
Chandigarh, December 25
SMS greetings, it seems, are picking up in a big way for all festivals now.


Viykings organises X-mas bash


Christmas celebrated