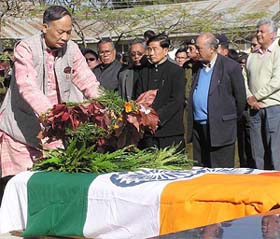 Manipur Chief Minister O. Ibobi Singh pays floral tribute to T. Thanthuam, IG (Intelligence), who died along with Commander Jamadar Khanjam in an ambush by suspected underground groups at Oinam in Manipur on Saturday. — PTI photo
One year post tsunami, it's women power in TN
Chennai, December 31
Whether it's Punjab or Haryana men rule the roost. The rule never changed even in a south Indian state like Tamil Nadu till tsunami happened. Post tsunami there has been a sea change in all the costal areas of the state.
FLASHBACK 2005
Growing clout, India's pride, neighbours' envy
New Delhi, December 31
The July 18 Indo-US nuclear agreement and the September 24 Indian vote in Vienna against Iran were the high watermarks of Indian diplomacy in the year that has gone by.
HIV test for soldiers in North-East
New Delhi, December 31
India's armed forces plan to make HIV test mandatory for all personnel serving in the northeast, as part of efforts to prevent the spread of the virus in the three services, particularly the army.
Joshi CD case given to CID
Bhopal, December 31
The Sanjay Joshi CD case has been entrusted for investigation to the CID which, in Madhya Pradesh, is considered as the dumping ground for politically sensitive cases. The CID, accordingly, registered on Friday night a criminal case under Sections 467, 471, 507 and 387 of the IPC and Section 67 of the Information Technology Act against unidentified persons.
Let's excel: Kalam
New Delhi, December 31
Greeting the nation on the New Year eve, President A.P.J. Abdul Kalam today urged countrymen to resolve to excel in all their endeavours. "On the occasion of New Year, I extend my greetings and best wishes to all our people in India and abroad," Dr Kalam said in a message.



Videos
'Tujhko Pukare'—a film on dowry
(28k, 56k)
Now enjoy tea at home through mail.
(28k, 56k)