PUNJAB

HARYANA

JAMMU & KASHMIR

HIMACHAL

REGIONAL BRIEFS

NATION

OPINIONS

MAILBAG

BUSINESS

SPORTS

WORLD


A M R I T S A R
Every Thursday

Did Guru Gobind Singh really visit
the Holy City?
No Sikh historian or the SGPC confirm it, but the late Karm Singh believed that the Master had come to Amritsar. However, the facts are still open for debate and further research, writes Varinder Walia.
On the birth anniversary of Guru Gobind Singh today, it is pertinent to ask whether the Tenth Sikh Guru had ever visited Amritsar.



A Role Model For historians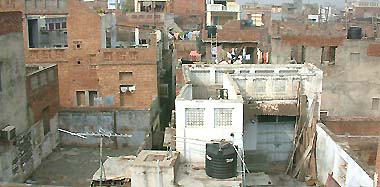 A view of Katra Dal Singh, near the Harmander Sahib. Historian Karm Singh claimed that the house (gurdwara) of the Tenth Sikh Guru once existed here. — Photo by Rajiv Sharma

History revisited
December 29, 2005

Freemason's confidential code
December 22, 2005

West of Orissa, east of Punjab
December 15, 2005

Retracing the glory of Shah Mohammad
December 8, 2005

The rich life of an artist who was a pauper
December 1, 2005

Struggling to keep the sacred flame alive
November 24, 2005

Contestants gear up for Mr Singh contest
November 17, 2005

Nothing 'bura' about this Bhala village
November 10, 2005
Such a long journey from Attari to Wagah
November 3, 2005
Buy land on Moon now...Mars is next
October 27, 2005