PUNJAB

HARYANA

JAMMU & KASHMIR

HIMACHAL

REGIONAL BRIEFS

NATION

OPINIONS

MAILBAG

BUSINESS

SPORTS

WORLD

Wednesday, February 8, 2006, Chandigarh, India
Updated at 3:00 am (IST)

Stop wheat import, say farmers
Threaten stir in Punjab
Chandigarh, February 7
The decision of the Union Government to import 5 lakh tonnes of wheat has stirred a up a hornet's nest as not only some political parties but also several organisations of farmers have decided to oppose the import. "The UPA government at the Centre has once again proved that it is anti-farmer.

CAST YOUR VOTE
Is it right to withdraw 5,000 troops from Jammu and Kashmir?


CHANDIGARH

LUDHIANA

JALANDHAR
New

DELHI

JALANDHAR PLUS

AMRITSAR PLUS

LIFESTYLE
New

FORUM

EDUCATION

JOBS & CAREERS

HEALTH & FITNESS

SCIENCE & TECHNOLOGY

SPORTS

SOCIETY

TRIBUNE CLASSIFIEDS

BRIDES WANTED

GROOMS WANTED

OTHERS

HOW TO PLACE ADVTS
Jobs & Career

Raj Babbar sticks to charges against Amar Singh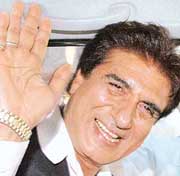 New Delhi, February 7
Sticking to his charges against party General Secretary Amar Singh, Samajwadi Party MP Raj Babbar who was today suspended from the parliamentary wing of the party on charges of indiscipline, said that the secular agenda of the party was being damaged by "middleman culture."



Suspended from SP parliamentary board



In video (28k, 56k)
EC in bind over Chawla expose
New Delhi, February 7
The expose connected with Election Commissioner Navin Chawla appears to have caught the three-member Election Commission in a dilemma with regard to the propriety involved and the ball is now in the court of Chief Election Commissioner B.B. Tandon.
Assam insurgency: Centre working on CBMs
New Delhi, February 7
Giving a new focus to the ongoing efforts to bring the United Liberation Front of Assam (ULFA) to the negotiation table, the Centre today agreed to initiate a few confidence building measures in collaboration with the state government in the insurgency-affected Assam.
12 hurt in clash with police in Srinagar
Srinagar, February 7
At least 12 persons, including three policemen, were injured today when activists of separatist parties tried to take out Muharram processions in violation of prohibitory orders here and clashed with the police who fired teargas shells and rounded up 50 persons.



J&K page: Cop killed, MLA's house attacked



India: The Tasks Ahead
SPECIAL SUPPLEMENT
125TH ANNIVERSARY CELEBRATIONS,
INAUGURAL SESSION

In Health & Fitness today

QUOTE
It is true, I was not aware of how this rule works but I know now they were right in giving me out.
— Inzamam-ul-Haq


E - Revolution 2005:
A Two-day IT conclave

Assembly Elections - 2005

Turbans

Chandigarh is 50

EARLIER FEATURES
Eight of marriage party killed in mishap
Jammu, February 7
Eight members of a marriage party were killed as the vehicle carrying them to the bride's house rolled into a nullah last night near Billawar in Kathua district.
Sensex closes above 10,000 points
Mumbai, February 7
The markets continued to roll on a high today as rampaging bulls pushed Sensex to close above the magical 10,000 mark for the first time. The markets ended the day at 10,082 levels.




In video: Sensex closes at historic high. (28k, 56k)


Editorial: After 10K


Business page: SEBI keeping vigil on market
Punjab to have law on medical college fees
Chandigarh, February 7
In a bid to regularise and control the fee structure in private institutions offering medical education in the state, the Punjab Government will pass a legislation to decide the fee to be charged by medical, dental, ayurvedic, nursing and homoeopathic colleges.

US working for win-win N-deal
A senior Bush administration official has indicated that while progress is being made to iron out details of the civilian nuclear agreement between the United States and India lingering issues will "take time to resolve." Undersecretary of State for Arms Control and International Security Robert Joseph, speaking to reporters at the Foreign Press Centre in Washington on Monday, said in terms of the status of the civil nuclear agreement "both governments continue to believe that this is a very important arrangement for the future."
FORUM
Forum provides our readers with an opportunity to express their views on some of the vital issues facing the country. The new question being posed is:
Should lawyers resort to strikes?
The answers can be
e-mailed to:
forum@tribunemail.com
H.K. Dua
Editor-in-Chief

5000 troops pulled out from J&K
February 7, 2006

Left seeks debate on Iran issue
February 6, 2006

IAEA refers Iran to Security Council
February 5, 2006

Airport stir end in sight
February 4, 2006

PM launches job guarantee scheme
February 3, 2006

National interest to decide vote on Iran issue, says PM
February 2, 2006

Govt awards bids for Delhi, Mumbai airports
February 1, 2006

Doordarshan to telecast Indo-Pak one-dayers
January 31, 2006
Soni, Soz, Deora join Union Cabinet
January 30, 2006