M A I N N E W S
2 pilots killed in IAF plane crash
Tribune News Service & PTI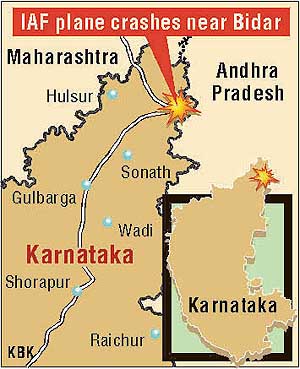 Bangalore, March 18
Two pilots of the Indian Air Force's Surya Kiran aerobatics team were killed today following an accident during a routine training sortie when their plane crashed on the outskirts of Bidar in North Karnataka. The Surya Kiran aerobatics team is based at the Bidar Air Force Station and comprises indigenously manufactured Kiran Mk II aircraft.
The accident occurred when the tail of one plane hit another during an aerobatics drill. One plane was damaged due to this and crashed at Naubad village on the outskirts of Bidar. The two pilots who were manning the plane died in the mishap. They were identified as Sqn Ldr S. Singh and Wing Commander D. Bhatia. The IAF has ordered an inquiry into the mishap.
The Surya Kiran aerobatics team is the successor of the Thuderbolt team of the IAF, which was formed in 1982 as a fulltime public display team. The team comprises 13 pilots with only nine pilots flying at any given time. The team has given aerobatics displays both in India and abroad, with the team giving its last major display at the Singapore air show in February.
Surya Kiran is rated as one of the best aerobatics formation teams in the world along with the "Red Arrows" of the British Royal Air Force and Canada's "Snow Birds".
The squadron primarily comprises indigenously manufactured Kiran MII aircraft. During breathtaking displays and manoeuvres, which the team has held in 500 shows within the country, besides abroad, the daredevil IAF men operate between 200 and 600 km per hour and fly within a height band of 30 to 1,500 m.
The aircraft was practising aerobatics formations with two other Kiran trainers of the Surya Kiran team when the mishap took place.
Both pilots were part of the nine-aircraft aerobatics team, Wing Commander Raghunath, Public Relations Officer of the Bangalore-based training command told reporters.
He said Air Marshal B.N. Gokhale Air Officer Commanding in Chief has convened the court of inquiry and ordered to find out the exact cause of the accident. Air Marshal P.S. Ahluwalia, Director-General of Flight Safety at Air Headquarters, has rushed to the spot.
Both Bhatia and Singh were frontline fighter pilots, who had opted to do a stint with the IAF aerobatics team, IAF sources said.
To qualify to be an aerobatics pilot, the fliers needed to be qualified flying instructors and possess a Master Wing in flying.