PUNJAB

HARYANA

JAMMU & KASHMIR

HIMACHAL

REGIONAL BRIEFS

NATION

OPINIONS

MAILBAG

BUSINESS

SPORTS

WORLD
Sunday, March 19, 2006, Chandigarh, India
Updated at 3:00 am (IST)

2 pilots killed in IAF plane crash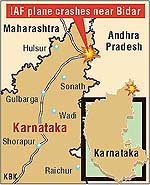 Bangalore, March 18
Two pilots of the Indian Air Force's Surya Kiran aerobatics team were killed today following an accident during a routine training sortie when their plane crashed on the outskirts of Bidar in North Karnataka. The Surya Kiran aerobatics team is based at the Bidar Air Force Station and comprises indigenously manufactured Kiran Mk II aircraft.

CAST YOUR VOTE
Is Jaya Bachchan's disqualification from the Rajya Sabha membership justified?


CHANDIGARH

LUDHIANA

JALANDHAR
New

DELHI

JALANDHAR PLUS

AMRITSAR PLUS

LIFESTYLE
New

FORUM

EDUCATION

JOBS & CAREERS

HEALTH & FITNESS

SCIENCE & TECHNOLOGY

SPORTS

SOCIETY

TRIBUNE CLASSIFIEDS

BRIDES WANTED

GROOMS WANTED

OTHERS

HOW TO PLACE ADVTS
In Society today
Hawks coming, training on MiGs to go
Bidar, March 18
There is nothing special about Bidar— a small 10th century town located at the cusp of Karnataka, Andhra Pradesh and Maharashtra. But next year will change it all. Come 2007 and Bidar skies will reverberate with the deafening sound of Hawk advanced jet trainers (AJTs).
Curfew imposed in parts of Navi Mumbai
Mumbai, March 18
Some areas of the Navi Mumbai township were placed under curfew after violence continued there for the third consecutive day today, the police said.
Businessman shot dead in Kaithal
Kaithal, March 18
Residents today observed a bandh in protest against the murder of a businessman here last night. He had been receiving extortion demands. The businessman, Narinder Arora, a plywood dealer, was shot at point-blank range in the head while closing his shop on the Chatrawas road. He was taken to a private nursing home but was referred to the PGI, Chandigarh. He succumbed to his injuries on way to the PGI.

Commonwealth Games 2006

Jung shoots golden double
Melbourne, March 18
Pistol shooter Samresh Jung fired a grand double, pocketing gold medals in 25m air pistol and 25m standard pistol pairs events at the 18th C'wealth Games here today.



Indian gold medalists Vivek Singh, Samresh Jung and Ronak Pandit in a jubilant mood at the Commonwealth Games in Melbourne on Saturday. — PTI photo



Pakistan whip India 4-1
Eves hold South Africa
Yumnam Chanu lifts gold
Indian men, women in TT semifinals
India's events today
Medals Tally



India: The Tasks Ahead
SPECIAL SUPPLEMENT

125TH ANNIVERSARY CELEBRATIONS,
INAUGURAL SESSION


Quote
I am relieved at winning this gold medal after yesterday's disappointment in an event where Vivek and I were the title holders.
— Samresh Jung
Nine jawans hurt in blast
Srinagar, March 18
Nine soldiers were among 10 injured when militants detonated a car blast on the Srinagar-Baramula bypass here today. The Hizbul Mujahideen has claimed responsibility for the blast. The Inspector-General of Police, Mr K. Rajinder Kumar, said the militants had parked an explosive-laden car at the Rawalpora bypass.

Jaya Bachchan may file petition against disqualification
New Delhi, March 18
Samajwadi Party leader and film actor Jaya Bachchan, disqualified from the Rajya Sabha for violating the constitutional provision debarring legislators from holding an "office of profit", may file an independent petition in the Supreme Court as she had only moved an application seeking clear interpretation of the law as part of an earlier decided case.
(Details in Nation page)

PM keen on Hussainiwala route: Dullo
Chandigarh, March 18
The Prime Minister, Dr Manmohan Singh, is keen to get the Hussainiwala border opened for travel and trade between India and Pakistan. At present the trade between the two countries is allowed through the Wagah border in this part of the country.
(Details in Punjab page)


Amritsar-Birmingham-Toronto A-I flights six times a week
Chandigarh, March 18
Air-India will fly its Amritsar-Birmingham-Toronto flight for six days a week from this coming May. Looking at the response of this flight that operated thrice a week, Air-India has taken this decision, less than a year after it re-started flights from Amritsar.
HOROSCOPE

E - Revolution 2005:
A Two-day IT conclave

Assembly Elections - 2005

Turbans

Chandigarh is 50

EARLIER FEATURES