B'desh outfit behind Varanasi blasts, 6 held
Shahira Naim
Tribune News Service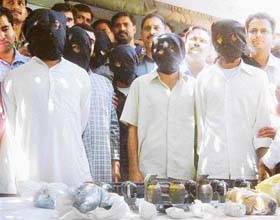 Six terrorists arrested by the Special Task Force (STF) in connection with the Varanasi bomb blast are produced before the media in Lucknow on Wednesday. — PTI photo
Lucknow, April 5
Bangladesh's terrorist outfit Harkat-ul-Jehad-al Islami (HuJI) links with the Varanasi twin blasts have been established with the arrest of its Uttar Pradesh area commander, Waliullah of Phulpur, in Allahabad. This was claimed by the Special Task Force (STF) here today.
With the arrest of Waliullah and five others, the STF claims to have cracked the case. The blasts at the Sankat Mochan temple and the cantonment railway station on March 7 had claimed at least 20 lives and had injured over 100.
Waliullah said revenge for the demolition of the Babri Masjid and the carnage in Gujarat in 2002 motivated them to take to terrorism.
All accused have been remanded in judicial custody.
It has also come to light that the historical seminary at Deoband in Saharanpur which had played a positive role in India's freedom struggle is now a recruiting ground for international terrorism. Those who executed the blasts apparently studied there.
However, Waliullah maintained that using the Deoband connection was strictly unofficial.
Speaking to the Press with his face covered with a black mask, Waliullah confessed to have sheltered and provided logistical support to the three main accused—all Bangladeshi citizens—who are still to be arrested.
They are Bashiruddin, Mustafiz and Zakaria. Walliullah admitted that the three were known to him as they had studied with him for many years at Deoband.
Among the items seized from the accused in Lucknow are an AK-47 with a magazine and 27 bullets, three H.E.36 hand grenades, 12 hand grenades, 6 kg of RDX, 3 kg of PETN plastic explosives, 10 detonator fuse and a pistol with magazine and six bullets.
Walliullah confessed to have come in contact with the HuJI in 2002. It was during his tenure in Deoband when he was first inspired by jehad after hearing the tapes of Masood Azhar.
Earlier, he had been arrested in 2001 along with his brothers for his reported involvement in Jaish-e- Mohammad activities and had been lodged in jail for eight months.
Following his release, Bashiruddin took him to Bangladesh in June 2004 to introduce him to the HuJI commander, Maulana Asaullah. It was during this visit that he was appointed UP area commander and entrusted with the task of recruiting youths and sending them to Bangladesh for training.
On the night intervening February 23-24, 2006, he was informed during a religious meeting at Mau Ayma in Allahabad that Maulana Asad ullah was to sent some youths to him to do a job.
On March 3, three youths arrived in Phulpur with two bags and were lodged in a room near his house by Waliullah. The next day, he travelled to Varanasi with two of them to do a recee.
On March 5, the three Bangladeshis surveyed the Allahabad markets and the next day purchased three pressure cookers that were used as bombs during the blasts. They then left for Varanasi to carry out their operation. "They did not return to Allahabad after the blasts. It was only on March 21 that they had last got in touch with me," informed Walliullah.
While he claimed to have information of the HuJI's hand in the blasts in Delhi on the eve of Divali as well as the explosion on the Delhi-bound Shramjivi Express near Jaunpur, STF sources said they would be passing on the information to the relevant agencies to make independent investigations before arriving at a conclusion.
Produced before the media in masks, the youths confessed to have visited Bangladesh at different times and got in touch with Maulanan Asadullah who facilitated their passage in Pakistan for training in arms and explosives.
Among the arrested are Syed Shuib and Farhaan (Lucknow), Mohammad Rizwan Siddiqui and Mohammad Saad Ali (Amroha) and Shahid (Allahabad). They were working in a power loom in Bhiwandi near Mumbai.
The SSP of the task force, Mr S.K. Bhagat, pointed out that Waliullah was one of the modules in the operation. "There may be one in Varanasi or many others which we still have to figure out," he said.
According to the confessional statement of Waliullah, the modus operandi of the HuJI was to recruit young boys from religious seminaries, take them in groups of twos and threes to Bangladesh through the Indo-Bangladesh border and arrange for their training in Bangladesh and Pakistan.
"Subsequently they were instructed to return to their homes and be passive receptors while conducting recee and wait for instructions," Mr Bhagat said.