PUNJAB

HARYANA

JAMMU & KASHMIR

HIMACHAL

REGIONAL BRIEFS

NATION

OPINIONS

MAILBAG

BUSINESS

SPORTS

WORLD

CHANDIGARH

LUDHIANA

JALANDHAR
New

DELHI

JALANDHAR PLUS

AMRITSAR PLUS

LIFESTYLE
New

Thursday, April 6, 2006, Chandigarh, India
Updated at 3:00 am (IST)

PM puts Haryana on road to progress
Panipat, April 5
The Prime Minister, Dr Manmohan Singh, today unfolded a package of development plans for Haryana, emphasising that the UPA government would consider setting up an atomic power plant at Kumharia in Fatehabad district and generate a consensus among states so that projects like the Kishau Dam could be taken up soon to benefit farmers in the state.
Backs atomic power plant at Kumharia
Lays stone of six-lane highway
Promises infrastructure for Panchkula
PM's escort chopper catches fire
Haryana page: HSGPC, workers give memos to PM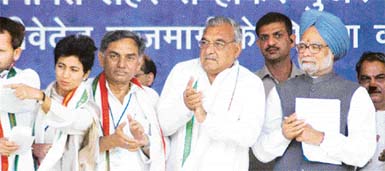 Prime Minister Manmohan Singh during the stone-laying ceremony for six-laning of the 10 km stretch of National Highway No. 1 at Panipat on Wednesday. Haryana Chief Minister Bhupinder Singh Hooda and Kumari Selja are also seen in the picture.
— Tribune photo by Vinay Malik
CAST YOUR VOTE
Do you see Google Earth satellite photos as a potential strategic threat?



FORUM

EDUCATION

JOBS & CAREERS

HEALTH & FITNESS

SCIENCE & TECHNOLOGY

SPORTS

SOCIETY

TRIBUNE CLASSIFIEDS

BRIDES WANTED

GROOMS WANTED

OTHERS

HOW TO PLACE ADVTS
In Amritsar Plus today
Rice drums up support
Says India will never accept cap on N-arsenal
Secretary of State Condoleezza Rice on Wednesday told members of the U.S. Congress India would never accept a unilateral freeze or cap on its nuclear arsenal.


In video (28k, 56k)

Punjab seeks Centre's help for clearing
rural debts
Chandigarh, April 5
There is finally some official word on the deepening crisis of rural indebtedness in Punjab and the havoc it is playing with farmers' lives in the state. Disturbed by soaring suicide cases and the outstanding rural debt amounting to over 24,000 crore, the Punjab CM has decided to seek Centre's intervention in the matter.

B'desh outfit behind Varanasi blasts, 6 held
Lucknow, April 5
Bangladesh's terrorist outfit Harkat-ul-Jehad-al Islami links with the Varanasi twin blasts have been established with the arrest of its Uttar Pradesh area commander, Waliullah of Phulpur, in Allahabad. This was claimed by the Special Task Force here today.

Govt, SBI unions fail to break deadlock
New Delhi, April 5
Hundreds of SBI customers unable to withdraw their salaries for the past three days are cursing their luck for opening account with the bank , while talks between the government and SBI unions broke down today.



Ludhiana page: SBI strike continues for third day


Chandigarh page: SBI strike enters third day


India: The Tasks Ahead
SPECIAL SUPPLEMENT

125TH ANNIVERSARY CELEBRATIONS,
INAUGURAL SESSION




HOROSCOPE

IAF offers Halwara for international airport
New Delhi, April 5
The Indian Air Force has offered its air base at Halwara to the Punjab government for developing a second international airport in the state, a senior official said here today.



Editorial: Modernisation in the air
Sensex gains 109 points
Mumbai, April 5
Continuing its upward climb, Sensex today shot up 109 points to close at 11,747. Though Sensex opened strong today, it fell to 11,653 later before recovering on the back of fresh buying by mutual funds and FIIs.

State not liable to pay staff of closing unit: SC
Rejects PNFC employees' salary claim from govt on closure
New Delhi, April 5
In yet another case of the closure of a government-promoted company, due to the financial crunch, the Supreme Court has laid down that the state was not liable to pay the salary to the employees of the closing unit even if the Chief Minister had made a promise to them unless there was a clear order to this effect.


Medha Patkar hospitalised, critical


New Delhi, April 5
The Delhi Police tonight shifted Narmada Bachao Andolan leader Medha Patkar, who is on an indefinite hunger strike on a street here, to a hospital after her condition turned critical.


In video (28k, 56k)


E - Revolution 2005:
A Two-day IT conclave

Assembly Elections - 2005

Turbans

Chandigarh is 50

EARLIER FEATURES
SC for filling all judicial vacancies
April 5, 2006
Rae Bareli byelection on May 8
April 4, 2006
Atomic energy panel Chairman to visit Vienna
April 3, 2006
Don't revise N-deal, says Saran
April 2, 2006
Iran shadow on Indo-US N-deal
April 1, 2006
Talks on "office of profit" issue from May 10
March 31, 2006
Acting Pak CJ's kin denied entry at Wagah
March 30, 2006
Bansi Lal dead
March 29, 2006
Dasmunshi submits report to PM
March 28, 2006
Consensus emerging on amending law
March 27, 2006