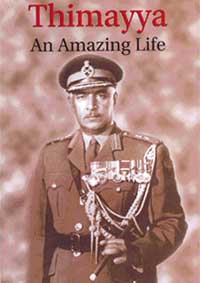 When an Army Chief almost quit
A new biography of General K.S. Thimayya, in his centenary year, by Brig Chandra B. Khanduri sheds fresh light on the famous clash between the celebrated Chief of Army Staff and Defence Minister V.K. Krishna Menon, which is a landmark in Indian political and military history.

Thimayya was aware that the minister of defence had been "not too happy" with the earlier recommendations based on Exercises Lal Qila and Sheel but he attributed it to his perspective nuances as well as comprehension. After all, it was his job to make the prime minister, defence minister and president understand the strategic requirements of defence of the border and the country.
The Gaze on Koodiyattom
Koodiyattom, the ancient temple art of Kerala, is attracting more attention with Sashi Paravoor's acclaimed film Nottam (The Gaze) on the dance form, writes M.S. Unnikrishnan
Koodiyattom is an ancient temple art of Kerala which preceded Kathakali by a few light years. Yet, this vibrant theatre form, set to Sanskrit lyrics, has been mostly confined to the stages of the temples and select art venues across the Malabar area of Kerala.

Thrillers in name only
Detective programmes on the small screen lack originality and variety,
says Randeep Wadehra
A lack of genuine competition spawns mediocrity which is reinforced by the reluctance of major channels to expose their products to scrutiny. Star and Zee organise their own award-giving ceremonies, underscoring the absence of credible neutral fora for evaluating various TV programmes.

A new act for Pretty Woman
David Usborne
It's called Three Days of Rain, a play by Richard Greenberg with three actors playing two siblings and a childhood friend in Act One and then Sold out almost for its entire Broadway run, however, it might as well be called The Pretty Woman Cometh.

Mozart meets India
Papri Sri Raman
Music aficionados will get to savour a unique synthesis of India's Carnatic music and Western classical music as an NGO here launches a project Mozart Meets India. The organisation, Tamil Maiyam, last year coordinated Thiruvasagam, a project that featured noted music director and composer Ilayaraja working with the Budapest Symphony Orchestra.

Salman to sing for Babul
Music director Aadesh Shrivastava seems to be fast becoming a Salman Khan favourite and has cajoled him into singing a sentimental number in Ravi Chopra's Babul. However, it was producer-director Ravi Chopra who took the initiative and came up with the idea of Salman rendering his voice for the film, reports Bollywood Trade.

Dosti on screen
Films celebrating friendship — right from Rajshri Production's Dosti, made in 1964, to Suneel Darshan's Dosti — have been box-office hits. Filmmakers are convinced that this is one theme that rarely fails to click, writes M. L. Dhawan
In an interview Hrishikesh Mukherjee once confessed that his blockbuster Anand was almost biographical — a mirror image of Raj Kapoor.

Good fare, bad set-up
There were glitches galore but to those who are fond of cinema there were a number of good films in the MAMI festival, writes Ervell E. Menezes
The curtain finally came down on the Mumbai Academy of the Moving Image (MAMI) festival last month but the event, also known as the International Film Festival of India, is now being known for its glorious uncertainties.
Being misfit
The screenplay by Homi Adajania and Kersi Khambatta is excellent, incorporating the Parsiana with doses of action and young director Adajania moulds the subject with the skill of a potter.