Karamchari Sangh burns CM's effigy
Panipat, May 1
A protest against the state government by various worker unions marked May Day here today. Various workers' fronts organised rallies and showed their deep concern over the poor condition of the working class.
HAU don accused of molestation suspended
Students lathicharged as rival groups clash over issue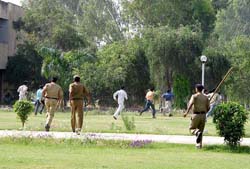 Hisar, May 1
The atmosphere on the Haryana Agricultural University campus here remained charged day today with a number of students staging a protest and demanding action against a faculty member who had allegedly molested a girl student.



Policemen chase agitating students on the HAU campus in Hisar on Monday. — A Tribune photograph

Traffic woes of Ambala Sadar
Ambala, May 1
Traffic jams, haphazardly parked vehicles and lack of proper parking space are a major problem in the Ambala Sadar area.

One held for fraud
Kurukshetra, May 1
The police has arrested Salinder Singh of Kainthla village, under Pehowa sub-division, in this district for bid to get Rs 9.90 lakh from a bank by presenting a person in his father's place and mortgaging his father's land.

Body identified
Raipur Rani, May 1
The body of a 30-year-old man which was found dumped with multiple stab injuries in fields of Mauli village yesterday, was identified as Naresh Kumar, alias Neetu, a resident of Sector 19, Panchkula.