22 Hindus massacred in Doda
Bodies of 9 kidnapped from Udhampur found
S.P. Sharma
Tribune News Service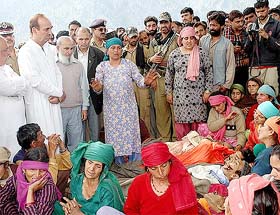 Women wail around the bodies of their menfolk and children massacred by terrorists at Kulhand in Doda district of Jammu and Kashmir, on Monday as chief minister ghulam nabi azad flew to the site of the crime.
Jammu, May 1
In a pre-dawn attack, terrorists raided seven hamlets around Kulhand village in Doda district and massacred 22 Hindu men, women and children.
Eleven persons were wounded and nine of them were flown to the medical college here for treatment. The police confirmed the killing of 19 persons. The jungle nearby was being combed, from where bodies of some persons trying to flee were recovered.
Police sources said nine more bodies of Hindus, who were kidnapped from Basantgarh in Udhampur district yesterday, were spotted near Lolan Gala.
Reports said a group of heavily armed terrorists belonging to the Lashkar-e-Toiba in combat uniform asked residents of these hamlets to come out of their houses around 2.30 am and divided them on the basis of religion.
They were taken to the house of Jagdish Lal Bhagat in Goila hamlet and shot dead. Several persons tried to escape, but were fired upon indiscriminately by the militants.
By the time Army and police personnel reached the village in the morning, the terrorists fled.
Villagers carried the injured to the district hospital at Doda as the village was a three-hour trek from the road.
Following recent wireless intercepts of terrorist leaders asking their cadres to selectively kill Hindus, the Centre had asked the state government to beef up security in villages where Hindus were in a minority.
The attack came close on the heels of the people defying the separatists' call for boycott of elections.
The Bhaderwah constituency in Doda district, from where Chief Minister Ghulam Nabi Azad was a candidate, had registered the highest polling.
Among the killed were Shashi Ram and Satish, father and brother of Ashok Kumar, personal assistant to Doda SSP.
Official sources said the terrorists went around houses in Kulhand village and the surrounding hamlets of Thawa, Goila, Panchale, Jattan, Halian and Ponchara and asked heads of families to come out.
They were taken to a nearby house at gunpoint and shot.
The two successive incidents of massacre of Hindus showed that terrorists had reverted to selectively killing Hindus in isolated villages to trigger migration.
The nambardar of Kulhand, Gopi Chand, was also killed.
Among the killed were Jagdish Lal and one of his daughters, Sapna Devi.
His wife Giloo Devi and daughter Sumna Devi were critically injured and flown here in a helicopter for treatment.
Maghar Singh and his brother Ram Raj were also killed.
Others who were killed were Sunder Dass, Romesh Kumar, Sadhu Ram, Saroop Ram, Kumar Singh Rana, Bhagat Singh, Romal Singh, Gori, Kunj Lal, Prem Nath, Pritam Singh and Panchi Ram.
The attack came two days before Prime Minister Manmohan Singh's crucial meeting with moderate Hurriyat leaders in Delhi.
These attacks were also being seen as an attempt of ISI-backed militants to thwart the round table conference of the Prime Minister at Srinagar on May 25.
Observers felt that by targeting Hindus, terrorists were trying to send a message that the government's peace process was futile and the Hurriyat and others would not be in a position to restore normalcy in Jammu and Kashmir.
Those who were flown here for treatment included Bal Krishen (45), Walait Singh (32), Sat Paul (20), Rajinder Kumar (19), Hoshiyar Singh (26) and Kikkar Singh (45).
Gyan Singh and Bhushan Kumar were admitted to the district hospital at Doda for treatment.
Those with serious injuries were given first-aid at Doda and flown to Jammu.
A doctor sent from Doda to Kulhand to conduct the postmortem examinations suffered a heart attack on seeing the mutilated bodies and was shifted to hospital for treatment.
An eyewitness, Rakesh Kumar, said the terrorists knocked at his door around 12.30 am and asked his elder brother to accompany them. He heard gunshots after some time and his brother sustained serious injuries.
He said there was no police picket at the village as the one that had been established a few years back had since been shifted. The Army camp was situated at a distance.
A complete bandh was observed at Doda and other towns of the district to protest against the incident. Students boycotted classes at the Jammu University and other institutions. Several BJP leaders rushed to Doda.
The Chief Minister, soon after his return from Delhi, visited the medical college to enquire about the condition of the injured. He expressed anguish and shock over the massacres. He announced an ex gratia of Rs 1 lakh each to the next of kin of those killed.
He said militants should read the writing on the wall that the people had rejected them and a deep hatred had grown against them. He said President A.P.J. Abdul Kalam, the Prime Minister and UPA chairperson Sonia Gandhi had conveyed grief over the incident.