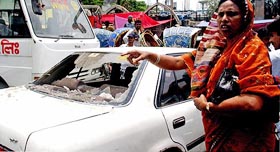 A woman laments after her car is damaged by activists during an Opposition protest in Dhaka on Tuesday. The protest was against the short supply of water and electricity. — Reuters
Darfur refugees force UN relief chief to flee camp
Nyala (Sudan), May 9
Darfur refugees rioted and forced the visiting U.N. humanitarian chief to rush out of their camp, attacking African peacekeepers and killing a translator, a sign of the continued fear in the wartorn region despite a fragile peace deal. The violence broke out yesterday as U.N.'s Jan Egeland toured Kalma camp, home to some 90,000 displaced people driven from their villages in Darfur.

Meeting reviews fight against terror
New Delhi, May 9
The second meeting of the BIMSTEC joint working group on counter terrorism and transnational crime (JWG-CTTC) has agreed upon concrete steps to strengthen cooperation among Bay of Bengal Initiative for Multi-Sectoral and Economic Cooperation countries to make its sub-groups more vibrant and effective.