Business as usual in housing sector
Hike in home loan rates fails to sour market sentiments, reports Manoj Kumar
The boom in real estate market is not showing signs of abating despite a hike in interest rate on home loans by about half a per cent early this month. Property prices have, in fact, appreciated by 60 per cent to 100 per cent over the past one year in most of the towns.
Salaried class hit
Dharmendra Joshi
It has become more difficult for the person belonging to salaried class to turn his dream of making his own house a reality. Thanks to the recent increase from 0.25 to 1 per cent in the interest rate on both floating and fixed housing loans by almost all private and nationalised banks.
RBI puts cap on housing loans
Ajay Banerjee
Taking a serious view of banks lending huge sums for financing big real estate projects, the Reserve Bank of India (RBI) has imposed a ceiling on loans to builders and cautioned against such excessive lending.
Boom sans development in Faridabad
Bijendra Ahlawat
Perhaps for the first time since the industrial township of Faridabad, which came into existence several decades ago, that such a steep escalation in the real estate and property has come into effect.
Plots comparatively costlier than houses
Shift in power base jacks up land prices in Rohtak, says Raman Mohan
Land prices in Rohtak and its surrounding villages falling on the National Highway No 10 have doubled during the past one year. The average price of residential land in Rohtak now stands at Rs 10,000 a square yard compared to Rs 5,500 a year ago.
Counter-magnet project loses attraction
A government initiative to ease pressure off Delhi fails, reports Sunit Dhawan
With a view to ease the pressure on the National Capital Region (NCR) cities, an ambitious project that was launched to develop counter-magnet areas in the neighbouring states of Delhi has failed to yield the desired results.
Slump catches realtors unawares in Baddi
Lack of infrastructure, 2007 deadline and police raids keep dealers on tenterhooks,
reports Ambika Sharma
With Baddi-Barotiwala-Nalagarh emerging as the prime industrial area in Himachal Pradesh, the real estate prices have registered an all-time high. The region, which hitherto attracted only industries, has now established a name for itself in the North Indian real-estate business.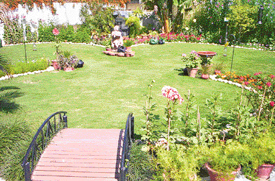 Right time to lay lawns
Do not add farmyard manure as is the source of weed seeds, advises Satish Narula
Though this is not the right time for active gardening yet this is a crucial instant for the most important horticultural operation, which is the backbone of any garden — laying of a lawn.
While planning, do not always follow the square or a rectangular garden concept



Global Realty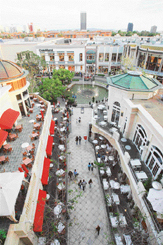 Shoppers walk down a street lined with restaurant at The Grove outdoor shopping mall in Los Angeles. The Grove, which was inaugurated in 2002, spreads out over more than 15 acres (five hectares). Its owner, the promoter Rick Caruso, claims that 18 million persons visit the mall a year, more than Disneyland.— AFP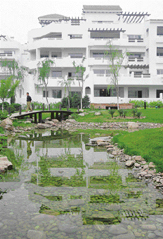 A man crosses a footbridge over a body of water reflecting new Mediterranean-style homes being developed on the outskirts of Beijing. Housing has become so expensive in China that seven out of 10 urban families cannot afford own homes, in yet another warning the property sector may be overheating, according to state media. A new study from Beijing Normal University found 70 per cent of China's city dwellers do not have enough money to buy a new apartment. Yet from January to March this year, property developers invested 279.3 billion yuan ($34.8 billion) in construction projects, up 20 per cent from a year earlier.
— AFP
From leasehold to freehold
Right over the land may soon become a reality for Ambala Sadar residents, writes Rahul Das
A paradigm shift in the real estate scenario in Ambala Sadar is expected to take place following the possibility of freehold property being permitted in the area.
Slugfest of giants in Dera Bassi
Pradeep Sharma
Dera Bassi, the strategic subdivisional town on the Chandigarh-Ambala highway, is proving to be the next destination of big builders and colonisers.

Making fortune selling luxury homes
Sebastian Tong
Kwek Leng Beng, Singapore's second-richest man, has made a fortune selling luxury homes. He looks set to make a whole lot more as the swankier end of the real estate market leads the way out of a five-year slump.


1,400-acre technology park on anvil in Bangalore
Jangveer Singh
Brand Bangalore is not only here to stay, but will continue to outstrip Hyderabad in terms of total IT export revenue. And no company has left Bangalore. In fact four new companies are being added every week.
City of Charminar expands
There is infrastructure boom at Hyderabad, writes Ramesh Kandula
Hyderabad is on a roll. The city is witnessing an unprecedented boom in the infrastructure development. The push given by the earlier TDP government to the all-round development of the city with particular emphasis on the IT sector has gained a momentum of its own that is now unstoppable following several new initiatives taken by the present regime.
Estrate talk
MBD Group plans pan-India expansion
Peeyush Agnihotri
MBD Group, a publishing sector behemoth that recently forayed into the real-estate segment under the brand name MBD Neopolis, is planning to embark upon pan-India realty expansion drive.
Construction of Vidhan Sabha complex jacks up prices near Dharamsala
Vibhor Mohan
Not far from Dharamsala town, the picturesque Sidhbari-Fatehpur area is currently the obvious choice to own a piece of land.
TAX Tips
All assessees, including NRIs, must pay capital gains tax
By S.C. Vasudeva
Q. I bought a house in Delhi in 1982 for 3 lakh and the current price is 73 lakh. Now if I sell it, I assume I do not have to pay capital gains tax if I am re-investing this 73 lakh again in buying a residential house.