FORUM

EDUCATION

JOBS & CAREERS

HEALTH & FITNESS

SCIENCE & TECHNOLOGY

SPORTS

Real Estate
New

SOCIETY

TRIBUNE CLASSIFIEDS

BRIDES WANTED

GROOMS WANTED

OTHERS

HOW TO PLACE ADVTS
HOROSCOPE
In Science & Technology today
Tharoor India's candidate for UN top job


New Delhi, June 15
India has thrown its weight behind the candidature of Shashi Tharoor for the post of UN Secretary- General. "India strongly supports the principle of regional rotation under which the next Secretary-General should be from Asia," a spokesman for the External Affairs Ministry said here today.


Martyrdom Day festivities draw flak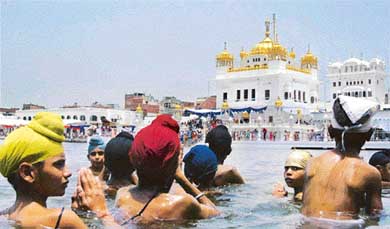 Devotees take a holy dip at Darbar Sahib Gurdwara, Tarn Taran, near Amritsar, on the eve of the 400th anniversary of Guru Arjan Dev's martyrdom on Thursday. — PTI
(Details in Punjab page)
Don't construe judgement as a statute, says SC
New Delhi, June 15
The Supreme Court has cautioned high courts and subordinate judiciary against wrong application of previous judgements in cases coming before them for decision and came down heavily on the Punjab and Haryana High Court for such a lapse.


FIFA WORLD CUP 2006
Ecuador first to enter second round
Germany also through; Poland, Costa Rica out
Hamburg, June 15
Ecuador strolled past Costa Rica 3-0 and into the second round of the World Cup today for the first time in their history. Goals in either half from Carlos Tenorio (8) and Agustin Delgado (54) and then a late strike from Ivan Kaviedes kept the South Americans' 100 per cent record in Group A intact following a 2-0 win over Poland in their opening match.( Details in Sports page )
FIFA WORLD CUP 2006
England defuse T&T
Nuremberg, June 15
England had to endure 83 minutes of frustration against Trinidad & Tobago before Peter Crouch and then Steven Gerrard powered them into the World Cup second round with a hard-earned 2-0 Group B win today.
( Details in Sports page )
INDIA IN WEST INDIES
Victory eludes India again
St Lucia, June 15
The downside of modern-day cricket tours is, while one visits some exotic places, there is rarely any time to explore these. Here, for instance, there are the Pitons, a world heritage site, with a pair of mountains rising like elongated pyramids, with a nearby "drive-in volcano", which has not erupted for over 50 years, but is still active. ( Details in Sports page )

E - Revolution 2005:
A Two-day IT conclave

Assembly Elections - 2005

Turbans

Chandigarh is 50

EARLIER FEATURES
Rahul Mahajan gets bail
June 15, 2006

Left takes to the streets
June 14, 2006
Terror in Jammu, Anantnag
June 13, 2006
NRIs to get voting rights soon
June 12, 2006
No review of quota policy, says FM
June 11, 2006
HC stops Jat Mahapanchayat
June 10, 2006
Al-Qaida's Zarqawi killed in US air raid
June 9, 2006
Rollback of petro prices ruled out
June 8, 2006

Congress joins petro price hike protest
June 7, 2006

Rahul Mahajan arrested
June 6, 2006