Taking stock after the crash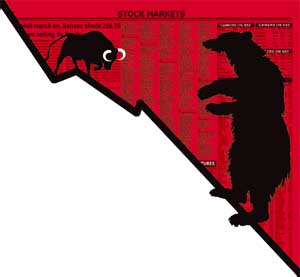 Correction? Flight of FIIs? Poor regulatory control? Stronger US dollar? Tumbling emerging markets? Whatever be the reason for the huge drop in the Sensex, the confidence of the average retail investor in the bourses has taken a strong beating, reports
Maneesh Chhibber
On May 18, the Sensex, which had been on a record upswing, even crossing 12600 points on May 10, registered a fall of 826 points to close at 11,391. This fall, the biggest ever in the history of Indian stock market, marked the start of a downslide which has still not stopped. Such was the fall that on June 9, despite a gain of 514.65 points, the Sensex closed at 9810.46 points.
Green black holes
A study conducted by NASA's Chandra X-ray observatory has revealed that black holes are the most fuel-efficient engines in the Universe. Black holes generate energy and affect their environment, the study said, adding that most of the energy released by matter falling toward a supermassive black hole was in the form of high-energy jets travelling at near the speed of light away from the black hole.
The monsoon blockbuster
Dr Akhilesh Gupta in a talk with Vibha Sharma gives an insight into the complexities of the most-awaited weather phenomenon
The northwest India is eagerly awaiting for its share of 2006 monsoon rains, which the India Meteorological Department has predicted to be "near normal and on time".
Chill out in Goa
It's not just the magnificent scenic beauty and the architectural splendours of its temples, churches and old houses that have made Goa a favourite with travellers around the world. The smallest state of India, also known as "Pearl of the Orient" and a "Tourist Paradise", also offers tourists the lowest cost of holidaying, something that has helped it beat Brazil to become the world's best bargain holiday spot.

Only hard news sells
When news channels and media are struggling to hold on to their viewership amid increasing pressure of TRPs, CNN-IBN has taken over Channel 7, the Hindi news channel promoted by Jagran Group of newspapers.
Batwoman's return
Maxine Frith
Fifty years after she first graced the pages of a comic book, Batwoman is to return to the world of superheroes — as a lesbian socialite. After an absence of almost 30 years and following months of feverish speculation among fans of the genre, Batwoman will make an appearance in the July issue of a comic called 52, produced by the legendary publishers DC Comics.
Season of remixes
The increasing tendency of Bollywood filmmakers to cash in on past blockbusters is a sure sign of lack of original ideas, writes Saibal Chatterjee
The remakes and sequels bandwagon is spilling over with hopeful Bollywood travellers. Everybody who is anybody in the Mumbai movie industry is scrambling to rehash a mothballed idea or to extend the life of a commercially successful concept. Indeed, none of the players that are hitching a ride on this roller coaster is a B-grade wannabe with his sights set on churning out a quickie and making a fast buck.
'Road to stardom is challenging'
Newcomer Shiney Ahuja, who has once again impressed both critics and audiences with his performance in Gangster—A Love Story, tells Swati R. Chaudhary that director Sudhir Mishra is his true mentor.

Complex story of life
When a single mom tells her daughter, after a fight with her boyfriend, that they're going to Wyoming, "that's where your grandfather lives," the little girl retorts, "I have a grandfather?" But that's not the only surprise in An Unfinished Life, a warm, somewhat complex story of life and its layers of misunderstandings narrated simply and sensitively against the backdrop of the old Wild West.