Well done, but no reward even after 8 yrs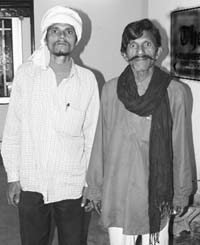 Satyen Sahani and Mrityunjay Saini were among the three divers who won accolades for digging out bodies from a well in Ludhiana eight years ago. — Photo by Inderjit Verma
Even as Haryana and Punjab have drawn flak in the wake of the Sonepat canal tragedy for not having divers in their crisis management cells, two Ludhiana-based divers who had helped dig out some bodies several years ago are still awaiting jobs, promised to them by the local administration then.
Ironically, it was just a few days before the Sonepat mishap, in which six children drowned, that these divers — Satyen Sahani, alias Veeru, Mrityunjay Saini and Rutal Mahato — were told by the Ludhiana authorities that they could not be accommodated in any job.
About eight years ago, these divers, who're migrants from Bihar, had won accolades from the Ludhiana administration for recovering several well diggers' bodies.They have, over the past few years, also fished out the bodies of many others who drowned elsewhere.
They were then promised a job and cash award of Rs 50,000 by the municipal corporation, but both promises have not materialised even after eight years. They were, however, given Rs 1,000 each by the District Red Cross Society.
Recalling the promise made to them, and even producing supporting documents, Sahani and Mahato say that it was in May 1996 that three persons had died when the well that they had been digging caved in.
Though the government machinery was then pressed into action to retrieve the bodies, it could not do so. It was then that these divers were called in and they undertook this daunting task despite the fact that the walls of the well were caving in constantly.
After they recovered the bodies, they were given trophies at an Independence Day function and promised jobs by the officials.
Since then they have been moving from pillar to post demanding that they should be enrolled in the crisis management cell but the authorities concerned have turned a deaf ear to them.
MARG darshan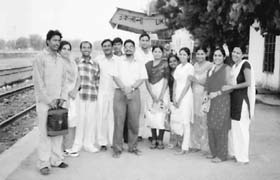 The MARG team, comprising students and a teacher of mass communication at GJU, has adopted a village in Hisar.
A handful of university students, led by their teacher, adopt a village to understand its problems and contribute their mite for the betterment of its residents. This is not a theme for a Shyam Benegal movie, but a real-life crusade launched by a group of Mass Communication students of Guru Jambheshwar University, Hisar.
The students, specialising in Social Marketing and Development Communication, formed an NGO named Media Action Research Group (MARG) in July, 2005. Their objective was to provide communication support for the social uplift of villagers, for they realised the significance of information in development.
Under the able guidance of their teacher, Dr Pramoda K. Jena, the group of 12 students adopted Mogalpura village in Hisar district. Besides, the group started a library at Mothsara village with the help of its panchayat. Recently, they organised a debate contest at Arya Nagar, in which students of five schools of nearby villages participated.
With a focus on education and women's empowerment, the group has been organising a series of educational competitions, including essay-writing, debates and quiz contests, in addition to cultural programmes and street plays.
Initially, they studied the demographic profile of Mogalpura village to understand its problems. "The underlying idea was to enhance the confidence level of the rural students and brush up their talent so that they could compete with their urban counterparts," asserts Dr Jena.
MARG also organised a food-processing training camp and motivated the village women to form self-help groups. Its volunteers launched a poster campaign to create awareness about sanitation.
The group got an overwhelming response from the villagers, apart from the whole-hearted support of the sarpanch, who happens to be an alumnus of the same department.
MARG comprises students who have either passed out from the department or are on the verge of doing so. They include Subhash Kumar (president), Sonia Jain (secretary), Pawan Singh, Sunil Kumar, Pawan Malik, Malkhan Singh, Sonia, Praneeta, Mamta, Naina, Preeti and Swapna.
In addition to organising inter-school contests, the group is now planning to set up a school in a village where there is none. Five villages in Rajasthan have been identified, one of which will be selected for the purpose.
Park made from scrap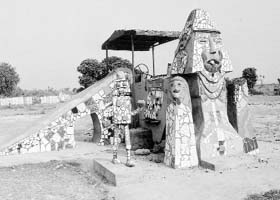 A playstation, made from an unused road roller of the BBMB, installed at the nature and amusement park in Talwara.
The greening efforts of the Bhakra Beas Management Board (BBMB) at Talwara are now bearing fruit.
It had undertaken various environment-friendly programmes at its 60-acre nature and amusement park on the Talwara-Mukerian road. The drive was started in August 2003, when it was found that tall grass and wild shrubs in the area were posing a threat to the residents.
"Large stretches that had wild growth were cleared and grass as well as flower-bearing saplings were planted. Over the past nearly two years, the efforts have begun showing results. Till date, more than 18,000 saplings have been planted. Besides, lawns and gardens have also been laid out," explains Narinder Sharma, who was the Chief Engineer when the project was started.
To beautify the campus, an amusement park has been developed on 20 acres. Various models were prepared from the waste generated by projects of the board. For this, Nek Chand's help was taken.
The amusement park has been divided into educative and functional segments. The engineers' section showcases various engineering activities that're undertaken during the construction of a dam, like tunnelling, drilling and blasting.
The environment section displays exhibits that evoke concern for the degradation of our surroundings.
Various artefacts manufactured by BBMB employees, using paint drums, girders, pipes, plates, etc, are displayed along with driftwood and craft items.
To give the park a natural look, water bodies and manmade hills have been created.
What better than a project that helps in solid waste and scrap management.
Contributed by Kanchan Vasdev, Sunit Dhawan and Vishal Gulati