Jockeys apart
Jockeying promises the youth an eventful future, be it as DJs, VJs or RJs, writes Usha Albuquerque
WHO hasn't been entertained by 'Ulta Pulta' Nitin's chatter, or Akashwani's Vividh Bharati? In India, radio still has a very large audience. In fact, its audience is far more than any other medium of communication. Whether in towns or villages, cities, shops, homes, even Delhi's local buses, radio is the common source of information and entertainment.

Overseas nurses in UK may lose jobs
New move makes future of Indian nurses uncertain
WITH the British Government removing nursing from the list of professions that bypass immigration rules, with effect from this Monday, foreign nurses in the UK, including a large number of Indians, are faced with the prospect of unemployment, a report from London said.

Careercature
Sandeep Joshi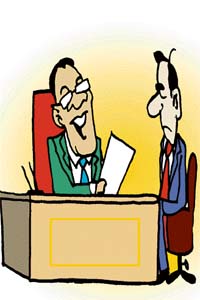 'Smart, loving, brilliant, caring...' Is this your job resume or a matrimonial?
15m new jobs needed yearly: report
Maharashtra, Karnataka and Punjab top in labour laws
THE current employment elasticity in India is 0.15, which means that even if 100 million new jobs are created by 2020, an additional 170-odd million will be unemployed, according to the "India Labour Report 2006".

West Asia job boom may benefit India
INDIA is likely to benefit from the ongoing boom in the West Asian job market, especially in sectors that demand highly specialised skills, says Arun Tadanki, president and managing director of global online recruitment service monster.com.

Career Hotline
Shore prospects
Pervin Malhotra
Q I come from a lower middle-class family and have always dreamt of joining the Merchant Navy. My friend told me that getting in as a Rating is the easiest way. Please tell me what the job entails and whether it is a good idea?