Wine Makers
There are many win(e)some folks in the city who are well-versed in the art of making wine,
finds out Parbina Rashid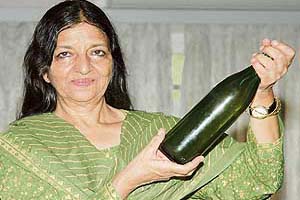 GRAPEVINE: Architect Madhu Sarin holds a bottle of old wine from her cellar.
Think wine and images that flashes into mind are of well-dressed sophisticated crowd holding long-stem glasses, filled with sparkling liquids. Go a step beyond, think about wine making, and your mind runs into acres of land growing grapes in some exotic chateau in France (it comes easy if you have had an overdose of Mills and Boons romances during those growing up years) or those dark, mysterious cellars packed with bottles of vintage wines in Italy.
Now come back to our own City Beautiful. We may not have those sprawling vineyards with the Moorish looking tall, dark and handsome heroes working hard and playing hard, but we do have our own breed of wine makers, toiling hard at the local mandis to pick up the right variety of grapes and celebrating hard with family and friends if the fermented stuff, after almost six months of patient waiting, turns out to be red or white wine and not vinegar.
Meet Vijay Pal Singh Marwaha, with his cowboy gear and honey and peach complexion, he does fit into our imagination of a wine maker. Just retired from the Planning Department as a Research Officer, Marwaha is doing what he likes doing the most—making wines in his Sector 7 house. And he has an alley in his hobby, his wife Cookie Marwaha, who just does not help him to make it, but consumes a fair share of it too. Before you jump into any conclusion, she uses the homemade wine for her Italian dishes (she is an accomplished cook and has her catering business).
When Marwaha came to city in the early 70s, he also brought along this hobby, which he says had inherited from his father. He started it small but making wine every season is something he has religiously maintained over the years. Now he has also a name for his brew 'Vino Rosso'.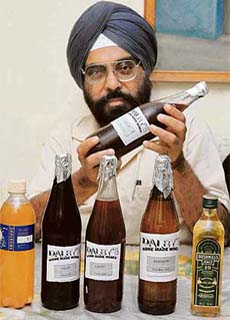 BRANDED: Dalbir Singh loves to make his own wine and he has given his brew a name close to his own. — Photos by Manoj Mahajan
It's takes a lot of patience and time to get what he wants, but he would not have it any other way. "It's a pleasurable process right from picking up good quality grapes from the local mandis to crushing of the grapes to settle it for the fermentation process to siphoning out of the red or white liquid for bottling. It's a labourious process that takes about six months but once you fill the bottles with the final product under the label Vino Rosso, its worth all that," he says pointing at the wine stand which has as old as sever-year-old bottles.
A tip from the expert—its important to stir continuously at the beginning for this is the crucial stage, which will decide whether you are going to end up with wine or vinegar.
Dalbir Singh, a city-based journalist, is a new one to try out wine making, but going by his collection he already has picked up the threads of the trade well. This innovative wine maker is not limiting himself to just grapes but also fruits like jamun, ginger, lemon and kinno.
"I was inspired by two of my friends to take up this hobby, but now I am totally hooked. Its so much fun to entertain your friends with a bottle of wine, which is you have made so lovingly or for that matter gift a bottle to someone special," he says. He enjoys it so much that he compares wine making to the art of raising a child.
Dalbir Singh believes in improvement. So he is reading a lot on wine making these days. Has he too picked up a name for his brew? "Oh yes! That's the fun part. I call it Dalby's," he replies.
This story on local wine makers would perhaps remain incomplete if we do not mention Madhu Sarin's name. As a globetrotter, she picked up the best from wine making countries like France and Italy and presented it to the city connoisseurs as early as in the first half of 80s.
"As a frequent visitor to London, France and Italy, I had the access to wine making equipments like huge glass jars as well as catalyst like yeast and for fruit we had two grapevines in our backyard," says Madhu who lives in Sector 4.
Though her busy schedule keeps her away from her favourite hobby these days, Madhu loves reminiscing her days of a wine maker. "It was the time when my nieces and nephews were young, so we had lots of fun together dancing on the grapes in order to crush them to a pulp," she remembers how she used to scrub their feet to maintain the cleanliness.
"Cleanliness is the key word for getting a good brew," come the tips from the expert. "While making wine, we have to destroy the natural yeast which is present in the grapes and put yeast from outside to break the sugar content into alcohol and carbon dioxide (CO2). The CO2 is made to escape but while doing so one has to make sure that nothing gets in, for if vinegar fly manages to get in, then you will have nothing but a barrel of vinegars in your hand," she lets you in on her secret.
Has it happened to her? "A little disaster here and there, except for a major blast which happened once as one of my glass jar exploded in the middle of the night. It was kept the dining room, which had just a fresh coat of paint. More than my loss I was worried about my mother's reaction to the mess in the room. Though my mother was initially had not taken my wine making too kindly, even she was all worried that all my wine had gone," recollects Madhu.
So all you wine lovers out there, now you know one can get high not just drinking it but making it as well.