Morni village lit up with solar energy
Geetanjali Gayatri
Tribune News Service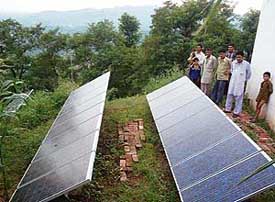 Residents of Nagnasu at the power house for solar energy in the village in Morni on Wednesday.
Morni, August 23
Seventy-eight-year-old Prem Singh, great grandfather to two toddlers, has lived in hope of better times for his village and village folk. In the twilight years of his life, his dream is beginning to take shape and the first indication has come by way of electrification of Nagnasu, one of the 45 remote villages provided electricity using solar energy under a project of Haryana's Department of Renewable Energy.
Way off the Raipur Rani-Morni road, across a dry river bed, atop a hillock and a 2 km steep climb later arrives Nagnasu, Prem Singh's baby, nurtured with the sweat of his brow. "The hill was virtually a thick forest when we first arrived with a couple of other families. Today its every corner is bubbling with life. I have watched it evolve and grow over the years but the arrival of electricity is a great milestone in Nagnasu's history. For the very first time, there's light in the village well after dusk and it's not from kerosene oil," he proclaims, excited about the new fittings, three tubes and a ceiling fan run by solar power in his house.
Six-year-old Poonam, too, can't contain her excitement as the clock needle inches towards 6 pm. "The moment the clock strikes 6 pm, the lights come on and everybody awaits the moment eagerly. I sit and finish my homework while my mother cooks. My father completes his farm business and before we know it, the lights go off, exactly at 11 pm," she says. The power house for the electricity supply is now the village children's favourite hangout.
Chips in Rajeshwar, a class III student of the local government school, "I used to envy the boys from Plasra who had electricity at home. It used to be a pleasure sitting under the fan in the comfort of the house while the sun shone outside.
The day we got electricity, nearly a fortnight back, I walked down to school a wee bit taller, happy that I had spent the evening doing my homework in tubelight while the fan cooled the room. It was bliss," he exclaims.
In their mid 30s, Rampal and Ranjeet, both farmers, state, "After coming back from the farm, there's lot of preparation to be done at home for the next day. We were forced to work under light from earthen lamps or battery-operated lights. It used to cost us anywhere between Rs 700 to Rs 900. The solar energy-fuelled fan and lights are a blessing for us and they come at zero cost to us. We are thankful to the government for sparing a thought for us and bringing light into our homes and lives."
Sheesh Pal, a shop owner from Plasra whose entire family lives in the village, remarks, "After sunset, we could not see each other's face even a few steps away. It used to be pitch dark.
This project of the Department of Renewable Energy is a boon for us though, let me admit, initially, I was skeptical if it would ever take off, see the light of day. I thought we would be condemned to spend our evenings in darkness forever since our village cannot be connected through the conventional grid for electricity."
Peeping from behind a half-shut door, her face covered, 40-year-old Belawati, barely manages to nod her head to express her happiness over the light from the tubes after a lot of prodding. She's too shy to speak in the presence of the male members of the family but is happy, her husband says.
Seated on a charpoy, his grand children standing on attendance, Prem Singh believes it's only the beginning. His wrinkled face is testimony to the number of years he's spent in the sun, on the farms and in difficult times.
"This monsoon, we have had good rains. It's good sign. The day is not far when we will have regular supply of electricity, a water connection and a road that comes right up to our homes.
Tomorrow holds a bigger promise. I'll live to see that day as well," he philosophically concludes. The clock strikes 6pm and the village lights up, breathing new life into the villagers and sending a wave of excitement through the children.
It's celebration time again as families rush into their home to enjoy the breeze from the fan and the light of the lamps. The dark ages are over.