Young World

Workshop in Lovely Varsity
Tribune News Service
Lovely Professional University (LPU) has called in overseas experts to train faculty members.  A series of lectures and workshops are slated to be organised in this regard in the coming days.
The series will be implemented in phases in the next few days. It began with a four-day workshop by Ms Anami Jacqueline Naths, a research scholar and a trainer of repute from Canada. She holds a Masters Degree in Education from the University of British Columbia and has experience of undertaking education related projects at international level. 
In an extended program, attended by more than 50 faculty members, Ms Anami enlightened the trainees with different models and approaches that need to be implemented to make education more meaningful and effective. Mr Ashok Mittal, president, Lovely Professional University, said in the era of globalisation, the university had to adhere to the international standards. 
The university is offering courses in management, engineering, IT, education, pharmacy, biotechnology and SCIENCE among others.


Singing for nation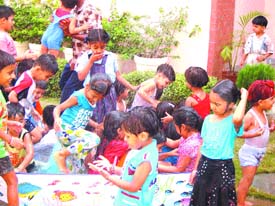 An inter-house solo singing competition on patriotic songs was organised for the students of classes VI to IX at Ambika Modern School. It was a treat to see the students performing in front of the mike as they sang the latest pop numbers, folk numbers and patriotic songs.
Meanwhile, tiny tots of the school's pre-primary wing had a pool party. Children danced to the music as they got wet in an artificial rain.

Students of Ambika Modern School, Jalandhar, enjoying a pool party on Saturday
College starts TV channel
The Department of Mass Communication and Video Production of BD Arya Girls' College inaugurated its own in-house TV channel, "BDA Channel", today.
Through the channel, the students from the department would telecast live as well as recorded programmes daily at the student centre of the college through the audio-visual studio of the department.
News bulletins as well as college events of the last week were broadcast on the inaugural day. Interviews with the college principal, Dr Sarita Verma, and college director, Ms Swaraj Mohan, were also telecast live from the studio.
The students have also prepared a programme on career options.
Students would be able to watch various programmes prepared by the media students daily during the recess in a programme titled "Break Time".
Apart from this, all DTH TV and radio channels would also be broadcast from the studio, Ms Mohan said.
The director said the studio would soon be equipped with a software for video editing.
She said the aim of the channel was to provide better exposure to the students and make them competent to work in the TV industry as anchors, producers and camera personnel.
Talent hunt
A talent hunt was organised at Prem Chand Markanda SD College for Women that concluded on Saturday.
During the three-day event, contests for literary, cultural and fine arts events were organised. Ms Kiran Arora, principal, gave prizes away prizes to the winners in different categories:
Shabad/bhajan singing: Shweta (1), Nisha and Esha (2) and Anu Bhardwaj and Sakshi (3).
Fancy dress: Anu (1), Suruchi (2) and Neha (3)
Debate: Bharti (1), Gurjot (2) and Rajni (3).
Poetry recitation: Rashi (1), Neha (2) and
Pallavi (3).
Declamation: Sakshi (1), Anu Gupta (2) and Rajni, Deepika (3).
Mehndi: Nancy (1), Divya (2) and
Surinder (3).
Nail art: Kamaljyoti (1), Monica (2) and
Sukhpreet (3).
Phulkari: Anupama (1) and Jaspreet (2).
Flower arrangement: Aabha (1), Shilpa (2) and Juhi (3).
Folder-making contest
A folder making contest was organised at Delhi Public School where students of Classes III to V participated.
The children decorated folders with braids, flowers, ribbon and glitters.
The first prize winners were Kritvi, Sayesha, Inderbir, Taney, Tanveen, Rhea, Jannat, Shivansh, Siddharth, Rohan and Anupreet.
Poetry contest
Sanskriti KMV School organised an inter-house English poem recitation contest. Students from Classes I to VI participated in the event.
Neha Joshi and Anmol Saini were declared winners. Ms Usha Pandey, principal, congratulated the winners. Pre-primary wing of school had a food sharing day.
The students of pre-nursery, nursery and KG brought a variety of snacks and shared their tiffins with friends.
Freshers' party
To welcome first-year students of Hans Raj Mahila Maha Vidyalaya, the senior students organised "Abhinav", a freshers' party, on Saturday.
A 'Ms Fresher Contest' was held during which the first-year girls sashayed down the ramp in their best party outfits. Balreet Kaur Bajwa was chosen for the title while Bani Sandhu and Rachna were declared the first and second runners up, respectively. Ms P.P. Sharma, principal, gave prizes to the winners.
Lecture
A lecture on "Etiquette and inter-personal relations" was organised at Apeejay College of Fine Arts on Monday. Ms Kamna Raj Agarwal, convener, Fastener Panel Engineering Export Promotion Council, was the resource person.
She focused on the importance of Emotional Quotient (EQ) to excel in interpersonal relations at home and work. She said a person with a high EQ could adapt easily to his surroundings and get along better with his fellow colleagues. The interactive session had pertinent questions and witty rejoinders.
Blood donation
Youth Club of Apeejay College of Fine Arts in association of Pahal, an NGO, organised a blood donation camp on Monday. Seventytwo boys and girls donated blood that was collected by the doctors from the Civil Hospital. Addressing the students, Mr Lakhbir Singh, president, Pahal, said if any youth started donating blood at the age of 18 and donated it every 90 days, he would have donated 188 units of blood till the age of 65 and served 752 persons requiring blood.
Workshop
A three-day workshop for developing sample papers in English for Class VIII and IX concluded at Dayanand Model Senior Secondary School on Friday. As many as 150 teachers from DAV Institutes all across the country participated in the event. A cultural show was organised by the young artistes of the school. Mr Raj Kumar Sehgal, principal of the host school, coordinated the event.
Interaction
The students of Mass Communication and Video Production from Hans Raj Mahila Maha Vidyalaya attended Bharat Nirman Campaign at Hoshiarpur organised by the Ministry of Information and Broadcasting, Government of India. The students interacted with Mr Ashwini Kumar, Minister of State for Industrial Promotion, Ministry of Commerce and Industry, and Ms Deepak Sandhu, Director General, Press Information Bureau. They also visited the exhibition and media centre.
Quiz contest
An English Literary Society of BD Arya Girls' College organised a quiz competition on Friday to test the knowledge of the students in English literature and language.
Four teams participated in the contest. Ms Surinder Chuhan, head of department of English, was the quiz master. Dr Sarita Verma, principal, gave prize to the winner team.
Admission
Guru Nanak Dev University would fill up vacant seats in the five-year BA, LLB (Honours) course in School of Legal Studies, Regional Campus, Ladhewali.
Dr S.C. Sharma, head of the department, said the seats would be filled up on merit basis from the state-level common law entrance test held earlier this year.
He has asked the candidates to submit applications in the campus by August 30 for admission to be held the next day.
New institute
St Soldier Institute of Hotel Management opened on GT Road this week. Mr Anil Chopra, chairman, said mock training guest rooms had been designed to replicate ambience of a five-star hotel. He said collaboration with foreign universities for student exchange programme and advanced courses in hospitality were in the offing.
University topper
Parminder Kaur, a student of Guru Nanak College, Phagwara, has stood second in Guru Nanak Dev University in M.Sc (Computer Science) Examination conducted this year. She secured 1844 marks out of a total of 2400.
Merit list
Jyoti Anand, a student of M.A. I (Economics) of the Kamla Nehru College for Women, Phagwara, has bagged the third position in Guru Nanak Dev Varsity merit list. She secured 283 marks out of a total of 400, and stood first in the district. Richa Aggarwal got the 8th position in the university merit list, and stood second in the district, according to college Principal, Ms Kusum Verma.
Declamation contest
The Rotract Club of the Kamla Nehru College for Women, Phagwara, organised a declamation and poetry recitation competition on Thursday on the college premises. The topics for the competition were related to current affairs.
Ms Saroj Balram, a senior lecturer of the college, and Dr Asha Sharma from the Hindi Department were the judges.
In the declamation contest, Jyoti Anand got the first position, while Ruminder and Neha Oberoi were adjudged the second and third, respectively.
In the poetry recitation contest, Jyoti Walia, Shavina and Pankaj Bhardwaj stood first, second and third, respectively.
Dr Neelam Sethi, incharge of the Rotract Club informed that a personality development programme for the students of the college would be held very shortly.
Ms Kusum Verma, Principal of the college, presided over the function.
Election
Mr Sudarshan Goel was unanimously elected as the president of the Ramlila and Festival Committee for which a meeting was held on Hanuman Garhi Temple premises, Phagwara, on Sunday.
A 19-member team was also elected to run the affairs of the committee on the occasion.
Cleanliness drive
Youths of Valmiki Mohalla, Hadiabad in Phagwara, launched a cleanliness drive of the locality to bring about awareness among the public to keep their surroundings clean.
Youths led by Mr Krishan Kumar Hero and Mr Daljit Singh Raju picked up the garbage from the area and put it in the Nagar Council pick-up vans.
They also sprayed DDT on the garbage. On this occasion, Mr Hero said that due to shortage of "safai karamcharis" with the Nagar Council, youths could play an important role in keeping themselves free from water-borne diseases by keeping their surroundings clean.

Dance Masti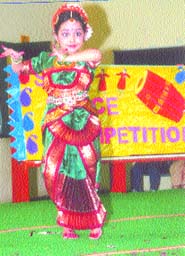 A dance competition for Classes I to V was organised at Delhi Public School. Performers danced as they played old classical numbers, live folk dances and rhythmic western dances. There were two groups, one for Classes I and II and another for Classes III to V. In group I, Mehardeep Sethi, Romil Wadhwa and Bartika Banerjee were declared first. In group II, Shreya Talwar, Aashita Singh, Bhavya Modi and Nehal Mahajan were declared winners.
"Dance Masti", a three-day dance contest for tiny tots of Police DAV Public School concluded on Saturday. As many as 170 children participated in the fiesta. Contest was held in three categories – Hindi, folk dance and Western dance. Results for

Students of Delhi Public School participate in dance competition

Class I (Hindi): Rahul and Riya (1), Deevanshi and Harmanpreet Singh (2) and Riya (3).
Folk song: Manjit Singh and Abhishek (1), Sarleen Kaur (2) and Jagjit Kaur (3).
Western dance: Harshit and Abhijay (1), Mansi and Muskan (2), Vasu, Armani and Swastika (3).
Class-II (Hindi): Riddhima and Riya (1), Gurleen (2) and Geetanjali (3).
Western : Muskan and Kavish (1), Tanvi (2) and Shivran (3).