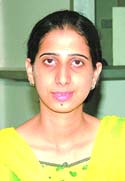 Outstanding girl guide
It is an honour for Damanpreet Kaur, now a student of Lovely Institutes, who has been selected for the coveted Rashtrapati Award by the National Commission for Scouts and Guides. As a student of Little Angels Public School in Faridkot, Damanpreet had attended a Rashtrapati Guide Award Testing Camp at Guide House in Model Town here in September 2003, for which she would be given the award soon. She has already got a provisional certificate from the national headquarters of Bharat Scouts and Guides, New Delhi, for having been selected for the award. Even as the award is coming almost two years later, this has not dampened the spirit of the young guide.


Border heritage being defaced
Frescoes in the Samadh and haveli of Punjab Singh Kumedan are being defaced, says Varinder Walia
The disappearance of heritage sites have caused colossal damage to the tourism potential of this border district.


A panoramic view of the decaying frescoes inside the Samadh of Punjab Singh Kumedan, a commander in Maharaja Ranjit Singh Army, in Rasulpur village. Part of the delicate artwork on the lower portion of the walls has been whitewashed.


Noisy gensets, quiet administration
Though the presence of a genset provides relief from power cuts, the sound it generates is irritating for some. The noise of generators during long power cuts adds to the miseries of the residents. As a result, the public is put to much inconvenienced.


A mammoth genset occupies the parking space in front of a shop in Phagwara. Tribune photo
Varsity's decision to charge morning walkers draws flak
The move of Guru Nanak Dev University to charge fee from morning and evening walkers in the campus has drawn flak from various quarters.
Young World
Workshop in Lovely Varsity
Lovely Professional University (LPU) has called in overseas experts to train faculty members.  A series of lectures and workshops are slated to be organised in this regard in the coming days.
Ghazal nite at Rotary Club
Nisha Kapur enthralled the audience by her ghazals during the meeting of the Rotary Club Phagwara held on Saturday. Besides ghazals, she kept the audience spellbound by her songs like "Terian mohabbtan ne maar sutiya" and "Kajrare tere kale-kale naina".
Teens bowl language googlies
It seems the initial lessons on minding one's P's and Q's lose their sheen once one hits teenage.


Cross-country run
Jeevan, Sarabjit breast the tape
To celebrate the National Sports Day on the birth anniversary of great hockey legend Dhyan Chand, on Tuesday, Lyallpur Khalsa College, Jalandhar, organised a cross-country run, keeping the trend of previous years alive.

The Principal, Lyallpur Khalsa College, Jalandhar, Dr Satish Kapoor, flags off a cross-country run to celebrate National Sports Day on Tuesday. — Photo by S. S. Chopra
Ganesh Chaturthi that began this Sunday may be a festival of the Marathas it has a following in the city too. Not only is the festival being celebrated with fanfare at some parts including Kartarpur since Sunday, artistes making Ganesh idols can be seen selling these at the Rama Mandi Chowk here. Sarwan, an artiste from Rajasthan, has been in the city for the last one week, making and selling these idols.

An artist giving final touches to the idols of Lord Ganesh at Rama Mandi Chowk in Jalandhar. — Photo: S.S. Chopra