Womanpower unplugged
Dogged determination, a firm resolve and a strong will help these women officers call the shots at work, finds out Deepkamal Kaur during a tête-à-tête with the officers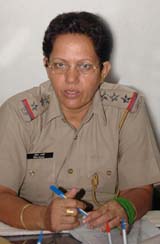 Sita Rani Sharma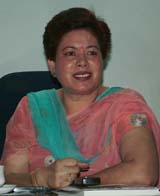 Neelam Chaudhary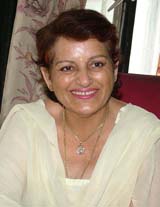 Rakesh Kumari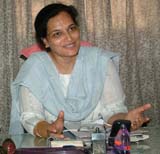 Sarojini Gautam Sharda
Commanding from their seat, they may seem to be gutsy and firm with their stand, but these women government officers have to cope up with many problems, especially those arising from odd working hours, frequent transfers and family adjustments.
With their jobs demanding much more time compared to other conventional occupations, these women, now occupying high posts in the government offices, say they passed through very tough times in the initial stages.
Four lady officers currently posted in Jalandhar made such revelations as they shared their varied experiences with Jalandhar Plus.
Ms Sarojini Gautam Sharda, Deputy Director, Local Bodies, said she was perhaps the first lady tehsildar when she joined the post after clearing PCS examination in 1981. Daughter of a businessman, she said she did not have any idea about the job, as she had never seen a government office prior to her job.
"That time I had just been engaged. I had not told my would-be husband that I had appeared in the examination as he had already said that he did not want a working wife. I, too, had not taken the exam seriously, but when I got to know that I had cleared it I was more worried than excited," she reminisces.
"Finally, I told my would-be husband about it, promising that I would quit in case I had problems at home. He, too, somehow agreed, as relatives on my in-laws' side pressurised him to let me go ahead with the job. He waited for three years to help me adjust to my job before we got married, and I cannot forget that kind of support," she recalls.
The officer also recollected a funny incident in her office. "I was working as a tehsildar in a village when I saw an elderly woman coming to my room every five minutes. When I asked my peon as to what she wanted, he went out and checked up with her. He said the lady had been told that the tehsildar was sitting in, but every time she came and saw me, she thought it was someone else. She could not believe that a girl could also be a tehsildar," she laughed.
The officer said she hardly got time for her family, and even today when she went back home a bit early, her family members were surprised.
She also narrated an incident when her son, Sidhant, suffered from chickenpox and she could not attend to him even for a day as she was too busy with official work.
"My father took him away to Phagwara to take care of him. My son, now in Class X, may have forgotten that four-year-old incident, but the guilt will never go out of my mind," she confessed.
Ms Sharda said it was with her mother's support that she still continued to be in job.
"She took care of both my children. Though she is totally illiterate, she always wanted me to do extremely well in career, and she has been with me through thick and thin," she added.
Like Ms Sharda, Ms Neelam Chaudhary, serving as Assistant Excise and Taxation Commissioner, too, had become a PCS officer in 1981. She got recruited as the Excise and Taxation Officer in Kapurthala.
But Ms Chaudhary was well aware of the working of government offices, as she comes from a family of government employees. Her father retired as a tehsildar from Kapurthala, and her brother, Mr Ravinder Chaudhary, is currently posted as an SDM in Khamano.
She said her family had remained "split" at different places. "Even now my husband is putting up at Jammu where he is posted as Chief Manager with the Bank of Baroda. My son is taking PCS training from Chandigarh from where he is also doing an engineering course. My daughter is with me, as she has just appeared for the UGC examination," she explained.
"We have been getting together only after a fortnight or a month, but now we are used to it. The situation is better these days, for it was worse when my husband was posted in Jabalpur, Madhya Pradesh, for three years from 1996 onwards. We used to meet just four to five times a year. But I was well-prepared about the problems I have been confronting even before I got married. I had seen my father getting transferred to so many places even in Himachal Pradesh. We had to frequently change schools and colleges," she added.
The officer said her duty hours sometimes lingered on till night, particularly whenever there was an operation of the sort.
"As an ETO, I have faced many problems. We had to conduct night detections that often yielded results. Once we were on such an operation when industrialists got together and gheraoed us. We were neither allowed to conduct checking nor allowed to move out of the place. We could not contact anyone, as there were no cell phones at that time," she narrated.
"After much persuasion, we were allowed to go. But we did not want the situation to go out of our hands. Next morning, we launched a major strike in the area with full police protection and managed to get the culprits nabbed," she said, adding that she had won appreciation from the government a number of times for taking such steps.
It has been altogether a different working for Ms Sita Rani Sharma, posted as inspector at Women Police Station here, where she remains busy solving marital disputes all day through.
She joined the police force about 30 years back as a constable when "there were hardly any women in the force".
She began her services in Gurdaspur, but later got shifted to intelligence wing of the CID where she served for 20 years. She joined as inspector in the district police about four years back.
Ms Sharma said that even as the work pressure on her was immense, she did not find it problematic to adjust at home.
"I have a joint family and both my children are being taken care of well. My husband is a non-teaching staff member at Mehr Chand Polytechnic and he manages to spare enough time for our kids," she said.
The inspector said that when she had got married, she was doing a civil duty at Attari immigration check point.
"My in-laws did not have any idea that I could be posted with the district police. They thought that it was a nine-to-five job. But now they know that there could be no Sundays off, and duty hours could be extended till late night," she said.
Ms Rakesh Kumari, working as a member of the District Consumer Redressal Forum, joined the post just five years back when she had turned 45.
She recently got her term renewed. Before this, she was a social worker attached with the Inner Wheel Midtown Club at Hoshiarpur through which she even tried solving various family disputes.
"I appeared for an interview conducted by the State Commission, and got selected. My husband is a known paediatrician in Hoshiarpur, but I did not specifically ask for a job there as I wanted to do it away from my home. Many people know us there, and they would have approached us for settlement of case in their favour, which I could not have done. So I preferred the job here. I decided not to use my surname 'Kapila' for the same reason," she added.
For all these lady officers, life has not been easy, but they made it with their grit and willpower. They faced many difficulties, but they were able to overcome these difficulties, thanks to their positive attitude and determination.
More importantly, these women know that success does not come on a platter. They know that one has to work hard for it. Perhaps, this itself is the secret of their success.