Monsoon is much awaited after the dry months, but the rains also bring their share of maladies along. The moisture-laden environment proves conducive for bacteria, virus and fungi to spread and wreak havoc with people's health. Varinder Singh finds out the monsoon-generated maladies that are trying to spread their tentacles in the city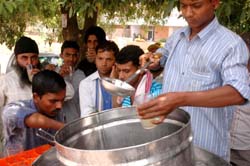 Creating conducive environment: Nimbu-paani
After the initial joy of respite from the scorching dry heat, people are now waking up to the miseries that come with the rains. A sizeable number of people have fallen victim to 'monsoon-generated' maladies, like intestinal infections leading to loose motions, viral fever and skin diseases.
While insanitation and supply of allegedly contaminated water in certain localities, such as Telian Mohalla, has seen residents suffering from intestinal infections or mild gastroenteritis, open sale of cut fruits under the very nose of district health authorities, has further compounded the situation for others.
Doctors estimate that nearly 40 per cent of population of the city could be suffering from intestinal infections, diarrhoea, viral, cough, and skin diseases like impetigo (contagious bacterial infection forming pustules and yellow crusty sores), fungal infections, ringworms and pityriasis (shedding of fine flaky scales).
Though viral fever seems to have spread its tentacles on epidemic proportions, there are hardly any cases of malaria, say doctors.
"Since most of these diseases are contagious, these are spreading at a fast pace and we feel that nearly 40 per cent of population of the city could already have fallen victim to one or the other of these diseases.
"Except for viral infection, all other diseases are, however, confined to certain localities, where, insanitation ruled the roost and where supply of contaminated water was being alleged.
The good part is that most diseases have not taken epidemic propotions due to enhanced levels of hygiene and increased awareness about the importance of sanitation among people," said Dr Jasbir Dosanjh, a city-based prominent dermatologist.
According to Dr Charanjit Singh Pruthi, the Managing Director of the local BBC Heartcare Centre, cases related to food poisoning and gastro were also seen in the city in considerable numbers.
"The biggest reason for proliferation of all these diseases is lack of cleanliness and unabated growth of flies, mosquitoes and fungi. Since, there is lack or absence of cleanliness all around, flies and mosquitoes become unmanageable and spread disease from one place to other. Pollution also plays its part in the game in spread of disease and sale of cut fruit and beverages like 'nimbu-paani' become potent vehicles for bacteria to spread from one place to another."
Bacterial infection can play havoc with life in monsoon. A leading choreographer of the city learned about it the hard way after falling victim to 'food poisoning' the moment he tried to enjoy dinner at a local restaurant. "It not only rendered me bed-ridden for a couple of days, but the malady also affected me from professional point of view. Utmost care about selection of an eating joint is a must, particularly, during monsoons," he said, wiser after the experience.
Investigations by The Tribune revealed that a high degree of insanitation prevailed in a large number of localities, particularly, the ones falling in 'basti' area and in almost all parts of the old city. Drains were seen overflowing and stinking water was seen accumulated here and there in absence of any corrective measures.
"Sanitation seems to have taken a back seat as far as the Municipal Corporation is concerned. Councillors and officials are seemingly busy in politicking than taking care of the city and its residents. There are lots of disparities.
"While certain posh localities get more than desired and money is being wasted on relaying of roads or parks, certain other areas are devoid of even basic sanitation," rued Ramesh Kumar, a resident of Basti Bawa Khlel.
A large number of vendors sell cut fruit, 'nimbu-paani', 'chat' and 'gol gappas' in all parts of the city without covering these food items in a proper manner and without fear of authorities.
Interestingly, 'rehris' of cut fruit and 'gol gappas' are to be seen near the entrance of the local Civil Hospital, housing the office of the Civil Surgeon.
When contacted, Dr Avtaar Singh Jarewal, Civil Surgeon, seemingly, had no time to talk about the sensitive issue as he was busy in a function organised by the Punjab Health Minister at Goraya.
"I am busy in the function. Can we talk in about two hours?" he said.
Dermatologists maintained that fungal diseases among people were also on the rise. "Itching is very common and so are cases of insect bites. All this comes with the monsoon, but situation deteriorates in case hygiene is missing around you. Maintenance of a degree of hygiene is a must and a pre-condition in case you want to avoid monsoon-related diseases," said Dr Dosanjh.