| | | |
| --- | --- | --- |
| | CHANDIGARH | |
CHANDIGARH
New Indigo launched: Tata Motors launched the new Indigo and Indigo Marina range here on Saturday. Mr Deepankar Tiwari, Assistant General Manager, Tata Motors, and Mr Mudit Gupta, Senior Manager, unveiled the new range. It is available in three new colours – Citadel Grey, Venetian Blue and Champagne Swirl in the price range of Rs. 4.60 – 6.29 lakhs (ex-showroom Chandigarh ). The company also announced a new V series on the existing Indigo family in the price range of Rs. 3.86 – 4.76 lakhs.
Elected: The following were elected office-bearers of the Chandigarh Mohali Panchkula Courier Association at a meeting held at Phase 7, Mohal on Sunday: president—Mr Dinesh Dobhal; vice-president—Mr Sushil Sethi; general secretary—Mr Narinder Pal Singh; cashier—Manmit Singh Kohli, adviser—Vinod Bachhawat; and public relations officer—Mr Amit Dixit.
AMBALA
Protest held: The Haryana Education Ministerial Staff Association raised slogans outside the residence of the Haryana Education Minister, Mr Phool Chand Mullana, here on Sunday. The association members, who have been sitting on dharna for the last three weeks, were demanding that their grievances should be redressed at the earliest.
Elected: The following have been office-bearers of the Haryana Non Government College Principal's Association at a meeting held in Karnal on Saturday: president— Dr Desh Bandhu; vice-presidents—Dr Vijay Tomer and Dr S.K. Malik; general secretary—Dr S.S. Goel; secretaries—Dr M.S. Kanchi and Dr Mahabir Khatri; and treasurer—Dr Puran Mal Gaur.

Stree Shakti and shiksha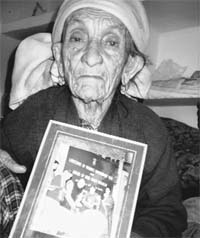 Stree Shakti awardee Kinkri Devi. — Photo by the writer
With the Himachal Pradesh Government deciding to open a Government College at Sangrah tehsil, 60 km from Nahan, from this session, the dream of a 65-year-old woman has been fulfilled
Stree Shakti awardee Kinkri Devi today feels contented that the efforts to get a college in her area have borne fruit and that the coming generations will get higher education at their doorstep.
"Initially, we started agitations at the local level. When the district administration paid no heed to our demand for a college, we took up the issue with the Chief Minister. We apprised him of the problems the students were facing in getting admissions in far-off places," recalls this frail, short-statured woman of substance.
"I had even requested former Prime Minister Atal Behari Vajpayee to bring higher education to the doorstep of our people by starting college in the town."
In 2001, Vajpayee felicitated her with the Jhansi Ki Rani Lakshmi Bai Stree Shakti Puraskar -1999 for her crusade against the mining mafia in the Sangrah area. The award has been instituted by the Ministry of Human Resource Development.
In 1995, she was invited to attend the international women's conference in Beijing. Hillary Clinton, wife of former US President Bill Clinton, invited her to light the lamp at the inaugural function.
The new college will 30 students in the first year Bachelor's course. Subhash Gupta, who earlier worked with the State Council for Science and Technology as Principal Scientific Officer, has been appointed the Principal.
For better and for verse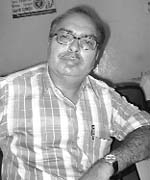 Krishan Gopal Vidyarthi
Krishan Gopal Vidyarthi, a multi-faceted artiste born and based at Bahadurgarh town in Jhajjar district of Haryana, is a poet, lyricist, actor and novelist rolled into one. Equally at ease with Hindi, Punjabi, Urdu and Haryanavi, Vidyarthi developed a keen interest in poetry while he was a student.
Later in life, he worked for a glass-manufacturing company and doubled as a part-time journalist. At present, he has his fingers in many pies, including writing regular columns in verse for daily newspapers and lyrics for telefilms, serials and video and music albums.
In the television serial "Atmjaa", already being aired on Doordarshan, Vidyarthi has acted as well as given the lyrics. The Doordarshan International channel plans to air it in 45 countries. Another tele-serial "Chirag", with Vidyarthi as its lyricist, is ready for telecast.
He has also given lyrics for the tele-film "Chuppi", which is based on adolescent sexual exploitation. He has also been associated with several Haryanavi video films as a lyricist and actor. Vidyarthi has written the script of a documentary "Ab Desh Chalana Hai" based on women's empowerment for the Union Government.
His poems have been compiled into two books, "Ghazlon ka Gaon" and Bhagat Singh ka Gaon", while work on a collection of ghazals, "Geeli Takhtiyan", is under way.
At present, he is engaged in writing lyrics for a music album on Guru Jambheshwar and with it he hopes to make a mark as a lyricist.
Horse power


Kashmir Singh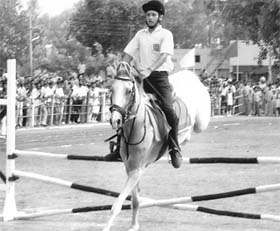 A rider trained by Kashmir Singh (above) giving a performance at a function at Sangrur recently.
Sangrur has once again taken the lead in reviving the almost-vanishing sport of horse riding in Punjab. This was amply demonstrated when young riders of Golden Global Earth School showed their horse-riding skills during the recent Independence Day celebrations in Sangrur.
The Director of the school, Tejinder Walia, has roped in ex-Subedar Kashmir Singh as a trainer.
Kashmir Singh was a bodyguard to the President of India from 1976 till his retirement in May last. Himself a rider of repute, Kashmir Singh has participated in many national competitions and has helped many riders to improve their skills.
During his two-month stint with the Sangrur trainees, he has shown good results. Kashmir Singh believes that the beginners are the most important rung of the ladder. He believes that a rider should first learn to love his horse. It is quite another thing to be tough with the horse, as opposed to being rough with the animal.
Though the school has only four horses at present, Ritu Pathak, its Principal, is planning to add six horses so that more students can learn the art of horse riding.
Contributed by Vishal Gulati, Sunit Dhawan
, G.S. Sethi