Jangams add colour to city's spectrum
Varinder Walia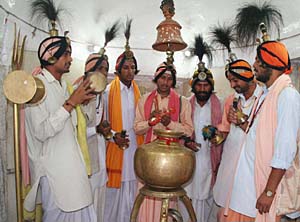 Jangams sing Shiv Vivah at the historic Dungha Shivala in the walled city of Amritsar.
Jangams, the 'kul purohits' of Lord Shiva, who wear brass flowers in their ears and peacock feathers in their headgear, add yet another colour to the religious spectrum of the Holy City. They sing 'Shiv Katha', about the glory of their Lord and can be spotted in various lanes and bazaars.
They settled at the local 'Dungha Shivala' in Chaursati Attari — the heart of holy city — after Partition. Dungha Shivala in the walled city is almost 15 ft below the ground and seems to be an ancient place. A large number of Jangams migrated from Karachi. About 50 Jangams live permanently in the Shivala bit their number increases during Navratras, Divali and Shivratri. Most of the Jangams settled in Amritsar hail from Haryana, some are Punjabis.
They believe in the traditional family system, yet have a different way of life. They settle their disputes in their panchayat. The state BJP Senior Vice-President, Ms Laxmi Kanta Chawla, who lives near Dungha Shivala calls them the 'most peace loving' community. They have flocked the city for many generations yet no member of their community has ever been booked for any crime.


Jangams are divided into four groups: Mul, celibates who practise yog in the pranayam form; Langoch, celibates who carry the image of Shiva in the Narbadeshwar incarnation in a small phylactery round the neck (chiefly found in south India); Sail, celibates found in the hills as they avoid mixing with worldly people; and Diru, found in the south-east Punjab. This last-named group is secular and is recruited from the Brahmin, Rajput, Bhat, Jat and Arora castes. Usually, this art of singing 'Shiv Katha' is practiced by a team of two or three people from the same family of certain class.
Jangam Virkha Nand Swami, Baba Chhajju Ram and Chatur Swami were among the first ones to make Amritsar their permanent abode after Partition. Ram Mehar Swami says Jangams beg to keep the tradition alive. "We are not beggars as no Jangam compels anyone for donations." On an average, a Jangam does not collect more than Rs 2,000 per month.
A visit to Dungha Shivala reveals that they believe in community kitchen. Strict vegetarians, they believe in simple food.
The legend of origin of Jangam, or Jogi-Jangam (called to distinguish them from Jogis), goes thus:: When Lord Shiva married Parvati no one would accept alms at his hands, so he created man from his thigh (jang) and, giving him alms, promised him immortality but declared that he would live by begging. Another version is that Lord Shiva at his wedding created two recipients of his alms, one Jangam, from the sweat of his brow, the other Lingam, from his thigh. These Jangams accept alms from devout.
Jangams belong to those unique sects who have been able to keep their distinct identity for the past many generations. Their rituals differentiate them from others. The religious attire present icons of five Hindu gods and goddesses, including 'karn phul' (brass flowers) of Parvati , 'mukt' (diadem) and 'seshnag', icons of Lord Vishnu with Lakshmi on sheshnag, 'kalgi' (plume) made of peacock feathers (of Lord Vishu) and 'janeu' (sacred thread) of Lord Brahma, the Creator, and 'talli' (bell) of Nandi, the white bull of Lord Shiva, and the leader of the Ganas (attendants of Shiva and live on Mount Kailash). They go about in the bazaars, demanding alms from each shop and are not be mistaken for common beggars.
As per tradition, one of their family members has to be Jangam. They too have started sending their children to school and many of them have been absorbed in high posts in the police and education field. Son of a Jangam, Mr Surjit Swami is an engineer in the USA. Mr Subash Gautam, son of another Jangam is Principal of ITI in Haryana.
Despite the position, all have to act as Jangam at least once a year. Their panchayat is strong and can excommunicate anyone found consuming liquor or indulging in anti-Jangam activity.
President of Jangams is Mr Darya Ram, a renowned kabaddi player and a retired DSP of Haryana.
The Jangams, only sing about the glory of their Lord and do not beg from anyone. When someone donates money to them, they receive it via the bell (talli), they sound while singing. To the Jangam, Shiva gave the bull's necklace hung with a bell, and everything that was on his head, and so Jangams still wear figures of the moon, serpents etc on their heads.
The birth land of Jangams is Kurukshetra, pilgrimage centre for Hindus. A small section of Jangams live in Patiala district, bordering Haryana. They also live in other parts of the country, including Himachal Pradesh, Rajasthan, Gujarat and Andhra Pradesh.
They narrate the great wedding of Lord Shiva and Parvati. Maha Shivratri is the longest and darkest night of the month. It is the night on which Lord Shiva and Parvati tied the knot and became 'One'. Hence, it is symbolic of the meeting of the Soul with the Almighty. It falls on the 13th (or 14th) day of the dark half of 'Phalgun' (February-March). The name means 'the night of Shiva'. The ceremonies take place chiefly at night.
On this festival people worship 'Shiva - the Destroyer'. The night marks the 'Tandav' by Lord Shiva. He is known by many names —Shankar, Mahesh, Bholenath, Neelakanth, Shambhu, Kailasheshwar, Umanath, Nataraj, besides others.
He is a sought-after deity and the devout pray to him for grants of their wishes. The festivities also include a fast. Some devotees do not even take water and keep vigil all night.
Hymns in praise of Lord Shiva are sung as it is said that he who utters the names of Lord Shiva during Shivratri with devotion and concentration is freed from all sins.
He is liberated from the wheel of births and deaths.