CII, WWF, GND University join hands to clean Hudiara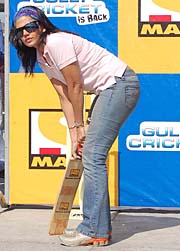 The CII, WWF-India, Art of Living, an NGO and Guru Nanak Dev University, Amritsar, have joined hands to clean the rivulet Hudiara that finally falls into the river Ravi in Pakistan.
Mandira pitches for Kumble's inclusion in one-day team
Trendsetting TV cricket anchor Mandira Bedi pitched for the inclusion of leg spinner Anil Kumble in the one-day team, adding that the Indian team was not complete without him.


Mandira Bedi takes stance to show her skills during the


'Gully Cricket' match in Amritsar. — Photo: RS
Beant, Tejinder win cross-country run
International player Beant Kaur came out triumphant the cross-country run in the women's category organised by the Goodwill Athletics Club here on Saturday. The event saw about 150 boys in the under-17 section and about 70 men and women participating in the run. Beant Kaur of Punjab Police outclassed all women and covered the distance in impressive time.

Athletes participate in the cross-country run in Amritsar. — A Tribune photo




Effigies for Dasehra a tall order
With the festival of Dasehra, which symbolises the victory of good over evil, just four days away artisans are working day and night to prepare effigies of Ravana, Kumbhkarna and Meghnath. Effigies in open ground are usually 55 ft high. The artisans work together in group to carve out artistic figures to convey the desired message.
An artisan prepares effigies of Ravana and his brothers for Dasehra in Amritsar. — Photo: RS
City Jains resent Gujarat Govt's move
The Punjab unit of the All-India Shwetamber Sthanakwasi Jain Conference strongly criticised the Gujarat Government's decision to club Jains and Buddhists with Hindus.