It's the oft repeated and unheard story of a poet's legacy, in the city he lived, amongst people who still look for him and those who don't remember. Sourabh Gupta writes about Nand Lal Noorpuri, and his poetic spirit



Nand Lal Noorpuri
On the night of May 13, 1966, in Model House Colony, Jalandhar, Gurbachan Dua, a young student, heard a loud splash from the well outside her house. She ventured out to have a look. Pair of slippers was lying beside the well. Horrified, she had a peek inside and shuddered.
The poet had committed suicide. This is account of old-timers of the locality. Punjabi poet Nand Lal Noorpuri, a free spirit, brought down by the times was no more.
His friend, Charanjit Punj, who had edited a book of his, had said in 1971 that Noorpuri was free spirit; fame was not his aspiration.
But yes, they said: "Noorpuri boleya, Punjab boleya".
Another scholar Mohan Singh had claimed that the poet has refused to live with illness and penury.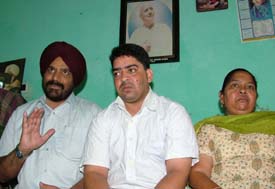 The poet's younger son Satkartar Singh Noorpuri, grandson Inderjit Noorpuri and elder daughter-in-law. — Photo by S.S. Chopra
Why Nand Lal Noorpuri decided to end his life, only the poet knew. The coming end was alluded to and reflected in many of his compositions just before his final walk.
"That night, grandfather woke my father, who was in his teens then, and asked him to recite a couplet from his 'Bhola Panchi'. Then he went out, never to return again," Inderjit Noorpuri, the grandson, recounts.
No one can fathom a poet's fragile mind. For him death had become an inseparable part of living. Noorpuri heard the 'bhola panchhi' lines that he had written in context of another death, at another place, in another job.
The beginning
Nand Lal was born at the beginning of the last century, in 1906 in Nurpur, district Lyallpur, now in Pakistan. At the Khalsa College in Layallpur, he got involved in the spirit of literature that would eventually provide him fame and ultimately lead to his demise.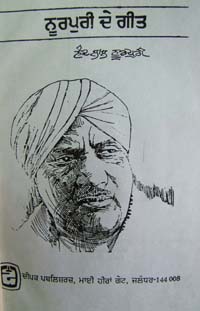 Slowly at college, poetry won against studies and Nand Lal immersed himself into the varied hues of poetical compositions. He quit college and joined as a schoolteacher to earn a living.
This dichotomy of the need to earn a living and write poetry as a free spirit dogged him throughout his life. It also took him into other professions, but the need to write always won in the end. The job of a schoolmaster failed to fulfill the inner urges of the poet and he finally called it quits.
His next professional venture was as unlikely a venture could be for a sensitive poet. He joined the police force as assistant sub-inspector and the destination was Bikaner.
There three persons were shot dead by the police in an encounter. Nand Lal was leading the police party that was attacked by persons who were brewing liquor illegally.
Police officer Noorpuri received a bravery award for it but it left an indelible mark on the poet Noorpuri.
Poetry takes over
In 1940, he left Bikaner to come back to Punjab and the poet in him took over completely.
That year he wrote songs for the movie 'Mangti', launching his career as a film lyricist. Experimenting, he got into uncharted waters. He wrote an opera on the ill-fated lovers, 'Mirza-Sahiban',which has been irretrievably lost now. He got a contract with Colombia Film Company as a lyricist. He had fame and he got ample remunerations for doing what he wanted to do. What more could have a poet asked for.
Change of fate
Destiny had something else in store for Noorpuri and India. Our Independence coincided with the biggest holocaust witnessed by the region. The partition changed everything for him. He lost his home and livelihood and came to Jalandhar, which would be his home for the next two decades. Sources of income dried up.
In the time of upheaval, poetic sensibilities were the last things on their minds. House and hearth took precedence over all else.
Noorpuri found work in the radio but the income was never enough for the family. Times had changed and how. He then got employment in the newly formed State Language Department. Poet's nature again took over and he left the department after about two years.
He limited himself to the radio and kavi darbars for income, which was erratic and in fits and starts. Slowly, poverty increased its grip on Noorpuri and the family sunk deeper into it.
Depression and suicidal thoughts followed. Noorpuri loved life and words. He wanted to write the thoughts churning in his mind. But the rigours of life, earning a livelihood were the ultimate winners.
Family's struggle
Life after the demise of the patriarch at 60 was never easy for the family. Noorpuri's eldest son, Satnam Singh Noorpuri, the father of Inderjit, was given a job in the Punjab Roadways. The rough life made him an alcoholic and the liquor claimed his life in 1994. The other son, Satkartar Singh Noorpuri, refusing to put up with the hard times, migrated abroad. He now lives in Switzerland with his family.
The grandson continues to live under his famous grandfather's shadow: the same city, the same locality and the same house (constructed over a small piece of land the state government gifted to the family).
The glory and the tragedy of Noorpuri's life continue to haunt his next generation. Inderjit could not secure a job in his father's department. "My mother and I kept going to the offices. We even met ministers. They promised us that something would be done. But nothing happened," he says.
Twenty seven-year-old Inderjit, married, with a child, now works as an employee on contract..He goes to work crossing a road named after his grandfather. He was there when the Chief Minister came to attend a function in the city. He will be there again.
Noorpuri Society
Some years back, a few scholars and journalists formed a Nand Lal Noorpuri Society. The aim, as they said, was to spread the poet's golden words. Now, the society lives only in the annual award it gives to singers and poets.
Early this year, it was singer Sarabjit Cheema for writing a poem against female foeticide.
It is hard to find the works of Noorpuri: in bookshops or college libraries. The ones exsiting are 20 to 30 year old : tattered, yellow and fragile. New publishers are not interested in taking out an anthology.
We found three books on Noorpuri's poetry from the archives of the Lyallpur Khalsa College, the institution he once enrolled into when it was located in Lyallpur, now in Pakistan.
"He is being forgotten. He is absent from most syllabi," Dr Satish K. Kapoor, Principal of the college, admitted.
On August 1, Mayor Surinder Mahey laid the foundation stone of a Nand Lal Noorpuri Yadgari Bhavan on the Model House road. The building will house a library of his works and will be built by the Municipal Corporation. Students from various schools were called to sing Nand Lal Noorpuri's songs that day.
But as Charanjit Punj had written: "Even if we are to bound his books in gold, he won't return."
People's poet
When a poet secures the love of the people, when children in villages and towns sing his creations, when college text books discuss his contributions to Punjab's poetic tradition, when film songs are composed on his words and singers like Mohammad Rafi and Surinder Kaur sing those lines, he also becomes a myth, for people who have neither met him nor known him. He refuses to be real.
Forty years have passed. The well that fatally attracted Noorpuri was filled up and a sapling planted over it, as a memorial. It has grown into a lush, heavy tree. As if the seed was words and the tree a breathing poem.
"Chal jiya ghar apne chaliye
na kar malan adiyan
eh pardesh desh nahi sadda
ethe gunjhalan bariyan."