By the sheer dint of their hard work, migrants from Bihar and Uttar Pradesh have carved a niche for themselves in the Holy City, reports Varinder Walia
Suraj Bali from Uttar Pradesh, who started earning his living by polishing shoes in the streets of Amritsar four decades ago, is now a big landlord of the Holy City. This is a unique success story of rags-to-riches and it speaks volumes about hard work. "Starve, die, but don't beg…Do something with your two hands," has been this man's motto.


The first republic
Etymologically, the name Bihar derives from the Sanskrit word "Vihara" that means "abode". The Buddhist Vihara, which was the abode of the Buddhist monks, dotted the area in the ancient and medieval periods. It is bounded by Nepal in the north and by Jharkhand in the south. Bihar has witnessed the golden period of the Indian history. It is the same land where the seeds of the first republic were sown and which cultivated the first crop of democracy. The soil has given birth to numerous intellectuals who spread the light of knowledge and wisdom not only in the country but also in the whole world.

Mr Bali always wanted to explore, to look beyond the borders of his homeland in Uttar Pradesh when he was a young lad. His yearning to explore brought him to Amritsar. He wanted to eke out his livelihood with dignity.
Like Mr Bali, the success stories of many migrants from Uttar Pradesh and Bihar are great inspiration for the locals who wish to eke out their livelihood with dignity.
"I used to get five paisa for polishing shoes in 1965 when I came to Amritsar. However, the Indo-Pak War broke out and I returned to my native town Rai Bareli and later came back after one and a half years to resume shoe shining," he says.
The trials and tribulations are now left behind. Now he owns a double-storey house in a posh colony and his children are well educated. Today his business is thriving.
Now, migrants who had come here as unskilled labourers are providing jobs to the Punjabis. Continuing success for them means once more rolling up their sleeves and applying business and motivational skills.


Uttar Pradesh: India's
fifth-largest state
Areawise, UP is the fifth largest state of India. In sheer magnitude, it is half the area of France, three times that of Portugal, four times that of Ireland, seven times that of Switzerland, ten times that of Belgium and a little bigger than England. Only five countries (China, India itself, USA, Indonesia and Brazil )have a higher population. The female literacy situation in Uttar Pradesh is dismal. Only one out of four in the 7+ age group was able to read and write in 1991. The problems of education system are exacting.

Initially, the migrants had to face offensive behaviour. However, most of the manual workers found their jobs very challenging and rewarding in Punjab – the Land of Five Rivers.
How most of the migrants who had moved to Punjab penniless turned their dreams into a reality is a unique story of rags-to-riches.
It's poverty that leaves little choice and creates conditions in which peasants, small-scale farmers and workers become migrants.
However, migrant farm workers confront deplorable living and working conditions. Fear and economic necessity are the main deterrents in taking action to improve these conditions.
The migrants have made themselves indispensable as they are willing to work in jobs that are commonly considered " dangerous and demeaning". They had come to Punjab in increasing numbers to fill the labour shortage, as Punjabis started shying away from the petty manual works. The migrants are particularly vulnerable to various forms of discrimination, exploitation and abuse, according to a report prepared by the UP Kalyan Parishad.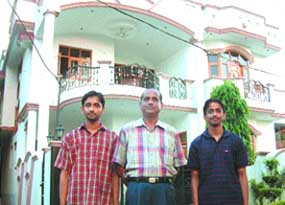 R. C Yadav, state President of the UP Kalyan Parishad, along with his sons Neeraj and
Nishant in front of their house at posh Rose Avenue in Amritsar. — Photo by Rajiv Sharma

Uttar Pradesh is one of the most ancient cradles of the Indian culture, while Bihar is known for its geographical location, natural beauty, mythological and historical importance.
Even then large-scale migration from such lands of rainbow to Punjab have taken everybody by surprise. The spectre of poverty that looms large over the lower strata in Uttar Pradesh and Bihar is believed to have compelled the people to leave their home states in search of greener pastures.
Dr J.P. Singh, Managing Director, Shri Dhanwantri Ayurvedic Pharmacy, who had come to Amritsar from Gonda district of UP after Partition with only Rs 700 in his pocket, is now a renowned figure of Amritsar. The annual turnover of his two pharmacies in Amritsar and Baddi (Himachal Pradesh) is more than Rs 11 crore.
Earlier, his father had come to Lahore as a skilled labour in a pharmacy in 1927. Now he speaks Punjabi more comfortably than his mother tongue Avdhi. Belonging to upper caste, he attributes large-scale migration to deep-rooted casteism in UP and Bihar.
"It was certainly painful decision to leave Uttar Pradesh – the land of opportunities, but destiny brought us here," said Mr Sugriv who rose from the petty job of a "munim" in a private mill to that of a Senior Lecture Assistant Laboratory, Hindu College. He is the senior vice-president of the UP Kalyan Parishad.
Out of the total 30 lakh migrants from UP and Bihar, more than 1.5 lakhs have settled in Amritsar alone.
Most of the migrants are voters and are in a position to tilt the balance in almost all the Assembly constituencies of the state. They are mainly concentrated in Verka Assembly constituency (28,000 votes), South Assembly constituency (14,000 votes), North Assembly constituency (about 10,000 votes) and Chheharta Assembly constituency (approximately 12,000 votes).
The colonies where migrants dominate include Nehru Nagar, Sandhu Colony, Parkash Vihar, Mustafabad, Indira Colony, Kundewala Khuh, Jawahar Nagar. Though most of them are unskilled, yet they dominate in the processing units, embroidery and marble work.
The first attempt to organise the scattered strength of the migrants was made by the then Commissioner Income Tax (Amritsar), Mr E.Saroj, who encouraged Mr R.C Yadav and other migrants to form the joint forum for the labour class that was passing through miseries. The joint forum, "Uttar Pradesh Kalyan Parishad" came into being on October 2, 1980, to mark the birth anniversary of Mahatma Gandhi. More IAS and IPS officers from both the states put their weight behind the Parishad. Now, Mr Parveen Sinha, SSP, Tarn Taran, and Mr V.K. Singh, a senior IAS officer from Chandigarh, are patrons of the Parishad.
The Shiromani Akali Dal supremo, Mr Parkash Singh Badal, had donated Rs 10 lakh for building "Mazdoor Rain Basera" , built opposite Escorts Hospital from his discretionary quota when he was the chief minister.
Many BJP ministers in the Badal government and Congress MLAs also donated funds generously. The multi-purpose "Mazdoor Rain Basera" now is first of its kind in the state, which has become hub of activities for the migrants.
The State President of the Parishad, Mr Yadav, claims that many migrants have practically lost their roots in their home states and have fully absorbed the Punjabi culture. Some of them have become granthis (Sikh priests) in the SGPC-controlled gurdwaras. Many migrants have married in Punjabi families. Even during the peak of militancy and Kargil conflict, the migrants were seen working in fields up to the zero line. It is, however, a matter of great satisfaction that they never became the target for gun-totting youths who would resort to indiscriminate firing during the peak of militancy, barring isolated incidents.
The Chief of the UP Kalyan Parishad had come to Amritsar as a tourist and decided to made Amritsar as his permanent abode. He started his career as a supervisor in a private mill at meagre salary. Now the annual turnover from his finance companies and PTU's centre is more than Rs 7 crore – a big leap indeed. He owns a double-storey house in the posh Rose Avenue.
The braindrain of skilled workers from Punjab to foreign shores and a big influx of unskilled workers from UP and Bihar here have created a unique scenario. Punjab has also become a safe haven for some criminal elements from UP and Bihar. However, the UP Kalyan Parishad has favoured various preventive measures so that migrants should not be blamed for the rise of crime graph in the state.
The migrants from Bihar and Uttar Pradesh have also brought their rich culture and cuisine to Amritsar. They celebrate their festivals and religious functions with gaiety.
Both the states have old tradition of beautiful folk songs sung during important family occasions such as marriage, birth ceremonies, festivals. They are sung mainly in group settings without the help of many musical instruments.
These states have a tradition of lively Holi songs with melodious rhythms.
The dance forms of Bihar are another expression of rich traditions and ethnic identity. There are several folk dance forms that can keep one enthralled. These include dhobi nach, jhumarnach, manjhi, gondnach, jitiyanach, more morni, dom-domin, bhuiababa, rah baba, kathghorwa nach, jat jatin, launda nach, bamar nach, jharni, jhijhia, natua nach, bidapad nach, sohrai nach and gond nach.
The staple food is "bhat" (rice), daal, roti, "tarkari" and "achar" (pickle).
"Kadhi bari" is a popular favourite and consists of fried soft dumplings made of besan (gram flour) that are cooked in a spicy gravy of yogurt and gram flour. This dish goes very well with plain rice. There is a distinctive Bihari flavour to the non-vegetarian cooking as well, although some of the names of the dishes may be the same as those found in other parts of north India.
"Roll" is a typical Bihari non-vegetarian dish. These are popular and go by the generic name "Roll Bihari" in and around Lexington Avenue (South) in New York City.
Now an interesting snippet that has some political overtones. Mr Ram Vilas Paswan, Union Minister from Bihar who is married into a Sikh family, has close relatives in Chhehrta town of Amritsar. He had enough guts to save the lives of Sikhs during Delhi carnage following the assassination of Ms Indira Gandhi – the then Prime Minister in November 1984.
In his affidavit to the Commission constituted to probe the role of those who had engineered the anti-Sikh riots, Mr Paswan clearly disclosed the involvement of those involved in the massacre of innocent persons and their children.
He deposed that the policemen posted at some places watched the violent incidents as mute spectators, and did not perform their duty of preventing the mobs from indulging in violence.