Phulan Rani, in a tête-à-tête with Varinder Walia, talks about her life and artistic ventures, and shares interesting nuggets about artists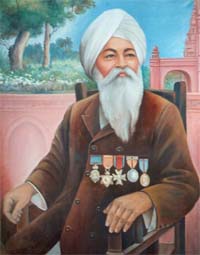 Portrait of Sardar Ram Singh, architect and designer of Khalsa College, Amritsar
S.G Thakur Singh made an illustration on the collapse of the British system of slavery for the title page of Kirti, a paper, then edited by Shaheed Bhagat Singh and Com Sohan Singh Josh". Many such interesting nuggets of information on art can be had from the octogenarian artist Phulan Rani. She is indeed a live-encyclopaedia of artists.
SG Thakur Singh, an admirer of Phulan Rani's works, wrote in The Tribune on December 18, 1960, "Phulan Rani is Punjab's well-known woman artist." She started with pencil in 1945. She expressed the subtle and curious grace of the human form in linear patterns. Her prolific work has earned for her an exalted position in art.
Ms Poonam K. Sidhu, a senior IRS officer, while appreciating her works writes, "The depth and mystical touch of Phulan Rani's brush has captured on canvas the very essence of various legends, parables and episodes that portray the lives of great Sikh Gurus."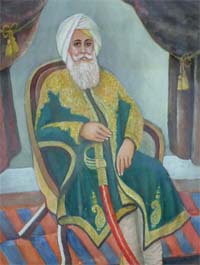 Portrait of a 15th century Sikh Photos by Rajiv Sharma
Phulan Rani was born on December 12, 1923, in a well-to-do middle class family of Bombay Wala Khuh, Amritsar. Her father, a medical practitioner of good standing and popular figure in the city, was a very indulgent father and did everything possible to cater to the aspiration of his children. Finding in her a strong propensity for fine arts, particularly painting, he was always there for her art. To her good luck, her husband was also a person of literary taste and had special love for fine arts. He helped to realise the artist in her.
Her father-in-law Kartar Sing Bumra, too, had an interest in painting. After her marriage when Sardarni Phoolan Rani made a painting, Kartar Singh Bumra was much impressed with it and he encouraged her with a cash prize of Rs 100. He also presented her a book. One of her paintings "Nartaki" was awarded the first prize in the Academy of Fine Arts. The great artist Soba Singh, who invited her at the picturesque Kangra valley, also encouraged her.
In September 1970, she visited the European countries and organised concerts in the universities under the title "Indian Ragas (melodies) through Music and Paintings". These concerts that reflected the beauty of Indian culture were widely acclaimed abroad. It was a unique experiment that earned her lot of applauds from the West. One such painting, "Mundavni, a Raga of evening", is about separation from the loved one and pangs of sorrow that tear the heart apart. Another painting "Bageshwari, the Raga of the night" symbolises the inborn longing of the soul to meet the eternal beloved like the yearning of the river to meet the sea.
While S.G. Thakur Singh who was born in 1899 at Verka, a suburban of Amritsar, had set up the Indian Academy of Fine Arts in 1931, Phulan Rani created her Arts Gallery in her palatial house in Ranjit Avenue spread over two acres. The land was allotted by the Beant Singh government in recognition to her contribution in the field of art.
As soon as you enter the Hall of Art Gallery you see the scenic beauty of Kangra Valley painted in water colour, Punjab folk life, Sohni, Mirza Sahiban, Shereen Farhad, Laila Majnu, Heer Ranjha. The Art Gallery is the only museum in a house that has the largest collections of paintings and portraits of great writers like Bhai Vir Singh, poets like Prof Mohan Singh, artists like Amrita Sher Gill. It is acclaimed to be the only individual collection in India to have a mix of 500 miniature paintings of all the major schools of art — Pahari, Mughal, Chugtai, Bengal School of Art, Sikh Art.
While S.G. Thakur Singh never had proper education owing to family circumstances, Phulan Rani did her Masters in English literature and authored more than 200 books, especially for children, with the cooperation of her late husband Shamsher Singh, a poet himself. She claims that SG Thakur Singh was a regular visitor to her house. She describes SG Thakur Singh as "a darvesh", and Sobha Singh, as "a great master of colours".
Both SG Thakur Singh and Phulan Rani brought Amritsar on the international map of art. After the death of SG Thakur Singh on February 2nd, 1976, Phulan Rani has been carrying aloft the flame of art even at the age of 83. She has an amazing zest for life. She exercises for more than an hour and this gives her lot of energy. She does not forget to play billiard with her grandson Gurkirat Singh every morning!
The then President of India, Mr V.V. Giri, presented her "Sardar Mohan Singh Book Award" for distinguished work on Guru Nanak on October 23, 1970. Her book of painting titled, "Life of Guru Nanak through pictures" has been adjudged as one of the best books on the first Sikh Master. The book has since been translated into English Braille for the benefit of the visually handicapped and it has been distributed free all over the world.
In the latest issue of "The Northern Virginia Review" Constance Elsberg described Phulan Rani as an internationally-renowned woman artist. In the article, "A deeper reality: on the Punjabi painter Phulan Rani", he writes, "I see the pieces of her life fitting together: her daughter's music inspired her to paint interpretations of the Ragas they played on their instruments; her teaching led her to illustrate books for children; her love of stories led her both to paint scenes from Punjabi legends and to have children's books translated. She agrees and adds that everything she does feeds her painting: art is a composite form of so many varied things that you feel and see all around you."
At the time when Phulan visited Shantiniketan, she and her husband had just fled from Quetta in the wake of the violence associated with Partition. Phulan Rani, while very much aware of the sufferings created by Partition, never chose to depict those.