Hospitals launch dengue helplines
City Civil Surgeon's line fails to provide information; no helpline in Hoshiarpur, Batala
Tribune Reporters
Jalandhar, October 11
As the number of dengue cases rise, information regarding the disease is now just a call away. Various Civil Hospitals in the region have set up helplines to answer queries of the public and create awareness about the disease.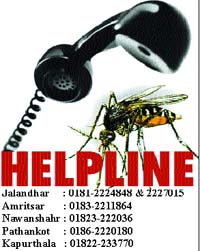 In Jalandhar, the health authorities and the Municipal Corporation have started the helpline. Doctors can be contacted on 0181-2224848 and municipal officials on 0181-2227015. However, some persons say the helpline is still not coming handy to them.
The Tribune last evening tried to find out the working of the helpline in Jalandhar. When a call was made first at 4.45 pm on 2224848, which is also a Civil Surgeon's office number, a lady staff member took the call. She confirmed that it was a helpline but she could not answer any queries as she was not on duty there and she had simply come to attend the phone.
Later, when a call was again made on the number, watchman Sucha Singh took the call. When asked that a child had fever and rashes on the body and could it be dengue, he said the rashes were not a sign of dengue, clearly indicating his ignorance. But he said the child could be examined in emergency.
Dr J.P. Singh, Civil Surgeon, when contacted, said he had also given his cell number 98720-74403 as a helpline number.
In Amritsar, the Civil Surgeon's office has helpline. One can get information on 0183-2211864 from 8 am to 10 pm.
Dr Jaspal Singh Gill, District Epidemiologist Officer, said a team of eight persons would work in two shifts and provide information on water-borne disease.
He said 10,000 pamphlets containing information about dengue had been distributed. A dengue ward had been established in Guru Nanak Dev Hospital.
Twenty-five dengue cases had been identified by the district health authorities out of which 19 treated. Rapid response teams were established to counter the threat.
The Pathankot administration in association with the district health authority has made arrangements to check the spread of the disease.
Dr Ravi Dogra, SMO, said an isolation ward had been made in the Civil Hospital for treating dengue patients. But so far only one case of dengue was reported in the town. He said a three-member team of doctors has been working round the clock in the Civil Hospital to treat dengue patients.
A helpline has been also started in the hospital. Doctors can be contacted on 0186-2220180.
Mr Vijay Kumar Sharma, executive officer, Municipal Council, said two fogging machines and four spray machines have been working in the city to check mosquitoes.
However, in Hoshiarpur the health authorities have not set up any helpline.
A round-the-clock helpline (01823-222036) has been set up at the Civil Surgeon's office in Nawanshahr. The public can even reach the Civil Surgeon, Dr Balbir Singh, on 98140-70632 and the District Health Officer, Dr I.S. Sekhawat on 98149-99623.
However, in Batala the Senior Medical Officer was not available for comments in the Civil Hospital on Wednesday.
He was in Gurdaspur to attend a meeting.
Doctors on duty as well as clerical staff said no helpline was set up in the Civil Hospital. In the evening when Dr Jarnail Singh, Senior Medical Officer, was contacted he also said till date no helpline was started.
In Tarn Taran, Dr. Gagandeep Singh (98159-66014) and Dr. Karanjit Singh (98143-15427), while in Kapurthala, Dr. S.S. Gill (98154-63199) were made nodal officers to deal dengue cases.
Inputs from Deepkamal Kaur (Jalandhar), Neeraj Bagga (Amritsar), B.B. Dogra (Pathankot), Ravinder Sud (Hoshiarpur), Parmod Bharti (Nawanshahr) and Balraj Mahajan (Batala)