ADVERTISEMENT

CHANDIGARH

LUDHIANA

JALANDHAR
New

DELHI

HIMACHAL PLUS
New

AMRITSAR PLUS

LIFESTYLE
New

BRIDES WANTED

GROOMS WANTED

OTHERS

HOW TO PLACE ADVTS

E - Revolution 2005:
A Two-day IT conclave

Assembly Elections - 2005

Turbans

Chandigarh is 50

EARLIER FEATURES
SC questions sting operations by TV channels
New Delhi, October 18
The Supreme Court today raised a question mark on the "sting operations" being conducted by various TV news channels and wanted to know whether these were done with real public interest in mind, or were aimed at raising the TV rating points and also involved money transactions.
Specifications changed after receiving coal
Scandal in PSEB
Chandigarh, October 18
The imported coal scandal worth several crores of rupees in the Punjab State Electricity Board has similarities with the City Centre scam in Ludhiana. After executing the tenders, placing the order and receiving coal at its plants, the PSEB authorities amended the most crucial part regarding the specifications in the purchase order obviously to accept substandard imported coal at its thermal plants.

HC: action against Venu subject to final verdict
New Delhi, October 18
The Delhi High Court today said any action against All-India Institute of Medical Sciences Director P Venugopal would be subject to the final verdict on the petition which is pending in the matter.

Dr P. Venugopal

India: The Tasks Ahead

SPECIAL SUPPLEMENT

125TH ANNIVERSARY CELEBRATIONS,
INAUGURAL SESSION

In Amritsar Plus today

CBI searches against NHAI officials
New Delhi, October 18
The CBI today conducted searches at seven places against officials of the National Highway Authority of India, including its General Manager (Technical) P.C. Arya, for allegedly clearing sub-standard work on the nationalhighway between Panipat and Sonepat and causing a loss to the exchequer.

Farm credit: PM for studying moneylenders' role
New Delhi, October 18
Admitting the failure of institutional mechanism in meeting the needs of the farmers, Prime Minister Manmohan Singh today initiated a debate on roping in and regulating money lenders in extending farm credit to alleviate the agricultural crisis facing the nation.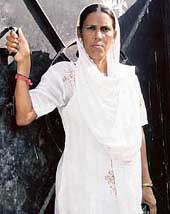 Bride vows to end groom's marriage run
Lavkeri village (Karnal), October 18
Thirteen proved unlucky for a 72-year-old man, Ramdhari, after his "13th" wife, Harbans Kaur (45), decided to stand up for herself when she learned about her husband's past.

Harbans Kaur outside Ramdhari's house in Lavkeri village, near Karnal. — A Tribune photograph

HOROSCOPE
India-Pak Foreign Secys' talks on Nov 14, 15
October 18, 2006
SC pulls up government on quota in IITs, IIMs
October 17, 2006
Debate against death penalty picks up momentum
October 16, 2006
UN slaps sanctions on N. Korea
October 15, 2006
Gujarat HC nullifies Banerjee Committee
October 14, 2006
I got offers to underplay: Gibbs
October 13, 2006
Clemency powers: SC warns Executive
October 12, 2006
FIR against Fernandes, Jaya, ex-Navy chief
October 11, 2006
North Korea conducts N-test
October 10, 2006
PM visits dengue patients at AIIMS
October 9, 2006
New infrastructure policy soon: PM
October 8, 2006