Upwardly mobile
Deepkamal Kaur
Tribune News Service


The city youth is fast emerging more conscious about securing their career in the field they desire. With specific targets set on their minds, they are moving in a much planned way keeping marriage as their secondary issue.
But they make it a point that the work pressure does not become too much as they often ease themselves out by partying, going on a "geri" route, enjoying a cup of coffee with friends or watching a movie with them in a theatre. The youth is also slightly getting more conscious of their personality and dressing sense.
Career
A media hub for the past many years, the city youth seem to have more penchant of choosing a career in the media.
Simer Sethi, an M.Com student of Lyallpur Khalsa College, has planned to take entrance examination tests of a few journalism schools, including Panjab University, next year.
"I have always loved mingling with people and knowing them closely, for which I think becoming a journo is the best choice", she explains.
Having won accolades for making a documentary on suicide cases of farmers in Punjab, Mehboob Pal Singh Brar, a passout mass communication student from Regional Campus of Guru Nanak Dev University, Ladhewali, aspires to become a film-maker.
"Being a Punjabi, I feel for the people here and I wish to help them out with my documentaries. I have tried to project the problems of farmers while also providing them possible solutions," he makes a point.
Kamal Mittal, an MBA student at Lovely Institutes, however, has chosen the traditional way. He wants to carry on his father's business in petrol pumps.
"I will off course try to expand it further in a planned way", he says.
Marriage
"I am much more enthusiastic about securing my career. I am not for getting married so soon. Even my parents are not pressuring me for it. People keep on coming to them coaxing them to get me married but so far they have been able to withstand these pressures and kept me out of it", says Simer adamantly.
Marriage is quite far for Mehboob as well.
"How can I even think of running in for matrimony without being able to settle down with my career? I am still learning the art of making films at the Films and TV Institute of India, Pune, taking up various projects there. At this point of time, my expenses are soaring high and my dividends are far too low. After everything stabilises, only then will I be able to think of marriage," he tells.
Even Kamal Mittal believes that he is too young to get married. "Though money is flowing in smoothly and the business I am involved in with my father is also quite settled, I believe that the right time for marriage is still far off," he opines.
But Kamal Pramar, a teacher and a counsellor at Apeejay School, has a rather unconventional belief. "I am with my parents. I will get married at the time and with a guy whom my parents choose for me," he tells affirmatively.
Fashion
"Since most students of my college come from a rural background, they are clad in suits but I feel most comfortable in jeans. But this season, I have purchased a few shrugs which I love to wear with T-shirts in bright colours," tells Simer. While till recently, wearing accessories and jewellery had been common among boys here but Kamal Mittal prefers doing without it.
Freaking out
Barista, a coffee shop near Milk Bar Chowk, has off late become the most happening place in the city. Says Mittal: "Headquarters and Café Coffee Day have become too crowded at times." Partying is also common among girls here.
"Few days back, we got a hall and a DJ booked at Hotel President. All those friends in our group who contributed Rs 350 each had a rocking party there. A 'geri' route with friends from Model Town, Jawahar Nagar to Lajpat Nagar is a must though we used to do that more often while we were in Plus One and Two," Simer explains.
Going abroad
The opinion remains divided on the issue. Despite a strong wave on moving abroad, Kamal Pramar is of the opposite opinion.
"I am not leaving India by any means. I have certain charm about my motherland and I am attached to it emotionally," she tells.
Likewise, Mehboob too tells that he will settle down in India only.
"I wish to work here with my loved ones instead of going to an alien land," he believes.
But Simer tells that she was trying to convince her parents to send her abroad for higher studies. Even Mittal wishes to settle down in the UK and Australia.




Bhoor Mandi in grip of disease fear
Deepkamal Kaur
Tribune News Service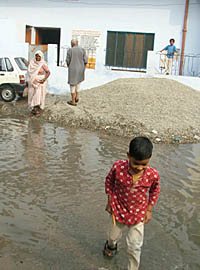 Sewage pools in front of a government dispensary in Bhoor Mandi, Jalandhar. — Photo by S.S. Chopra
People of Bhoor Mandi in the Jalandhar Cantonment area are forced to live in extremely unhygienic conditions, which have led to prevalence of skin ailments.
Wide open drains run on both sides of the road in the colony, which overflow most of the time. The result is spilling over of sewage water onto the road, the houses and even the government dispensary every morning. The clogged filthy water then clears out in about two hours during which the residents have no other option but to step into it and move out for work.
From cases of bacterial infections like scabies to fungal diseases like athlete's foot, the government dispensary here is getting numerous patients every day. While the poor patients of the colony are able to get free anti-scabies ointments from the dispensary, they have to shell out a few hundred rupees to avail a treatment of the more common athlete's foot for which the dispensary does not get any medication from the government.
The staff of the dispensary informed that many patients were not getting rid of the infection for months owing to the filthy surroundings. Since the colony is largely inhabited by animal slaughterers, pigs and poultry animals keep on running around the roads discharging faecal matter everywhere.
The residents of this area close to Rama Mandi showed that the sewage channels merge into a huge drain that flows across the GT Road into the army land again where a pump installed is used to siphon out the dirty water. They said the gate near the pump falling on the highway had been closed owing to which the board employees had to take a long U-turn, cross a few barricades to reach the pump to switch it on.
The residents also showed a board erected outside the colony bearing the name of MLA of the area, Ms Gurkanwal Kaur, declaring that the sewage work in the area had begun and funds for the purpose had been received. The board had been installed nearly five months back but no work had started in the area as yet.
The area falling in ward No 5 of the Cantonment Board does not have a councillor for the past few years ever since the elections were barred. Mr Sudesh Somkar, a former councillor, said he too had learnt that the funds had reached the Cantonment Board for laying sewage pipes and installing a treatment plant but there was some delay in starting the project owing to which the residents were suffering a lot.
Mr Somkar said the sewage of the area was laid in 1984 at a depth as that of other cantonment colonies. Since Bhoor Mandi was set up at a level four feet deeper than the rest of the area, overflow became a common problem. He added that the residents of the area were also to be partly blamed as they often threw away animal carcasses into the drains causing blockage.
Brig B.B. Patil, Sub Area Commander, 11 corps, said he was looking for an experienced contractor who could solve the technically difficult problem. He added that he was also looking forward to a help from the Municipal Corporation on the matter.