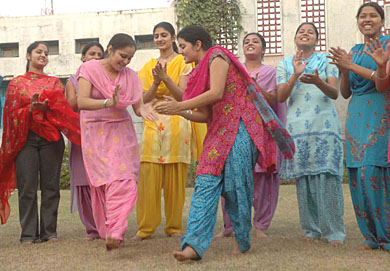 Upwardly mobile
The city youth is fast emerging more conscious about securing their career in the field they desire. With specific targets set on their minds, they are moving in a much planned way keeping marriage as their secondary issue.


Competition time: College students in Jalandhar prepare for youth festivals. — Photos by Pawan Sharma
Swami Sant Dass School wins maths quiz
Swami Sant Dass Public School won the maths quiz contest at science and maths project-cum-exhibition held at Shiv Jyoti Public School Deen Dayal Upadhaya Nagar, Jalandhar, under the aegis of the Jalandhar Independent Schools of Sahodya Complex.
Rahu, Saturn, Jupiter portend tough times
Kapurthala-based astrologer Mr G. S. Jaspal Ahluwalia has predicted far-reaching effects of transit of planets.  Actually, after almost a decade all three slow- moving planets Saturn, Jupiter, and  Rahu (which is a shadow planet) are changing signs within a span of 20 days.


475 NCC cadets participate in training camp
A district-level combined annual training camp of NCC cadets was organised by 21 Punjab Battalion NCC, Kapurthala, at district police lines, Kapurthala, in which 475 NCC cadets of senior and junior division participated.



NCC cadets undergo training at a camp in Kapurthala. — A Tribune photo

11 Corps clinch football trophy
Tribune News Service
11 Corps clinched the Western Command Hockey Championship played at the EME Battalion grounds in Jalandhar on Tuesday. They defeated 9 Infantry Division 3-0.

Players of 11 Corps receive a trophy from Lieut-Gen Noble Thamburaj, General Officer Commanding, Vajra Corps, in Jalandhar on Tuesday.



335 cases disposed off in Lok Adalat
As many as 335 of a total of 705 cases were disposed off and a compensation of Rs 2.23 crore awarded at a Lok Adalat organised by the district Legal Services Authority at district courts here on Saturday.