Civic amenities in a mess at Urban Estate-I
Bad roads, rainwater accumulated in huge potholes and garbage strewn about at every nook and corner. This is the picture of Urban Estate, Phase-I, Jalandhar, at the close of the monsoons. While the colony had got its roads re-laid just two years back, these roads are in worst condition now.


Potholes created in road leading to Urban Estate, Phase I, from Garha Road makes commuters a harried lot. — Photo by S.S. Chopra
Students gear up for national-level science exhibition
| | |
| --- | --- |
| Having been selected in the regional-level science exhibition organised by the Central Board of Secondary Education (CBSE) last week, five teams from four local schools are now preparing for the national-level exhibition to be held on October 6 and 7 at Gurgaon. Recasting their models and adding new technology, the students are putting their best efforts to make a mark in the national-level exhibition that could take them to a contest to be held later at the international level. | |

Thind's literary journey from reviews to travelogue
Sukhpal Singh Thind's parents wanted him to be a doctor, but he had a literary inclination. Though parental pressure made him join the science stream, he continued to nurture his literary aspirations. He loved reading Punjabi literature. His love for literature made him leave MSc (Chemistry) midway to join MA Punjabi at Punjabi University, Patiala.

Sukhpal Singh Thind


7 students of Swami Sant Dass School clear NTSE
| | |
| --- | --- |
| Seven students from Swami Sant Dass Public School, Jalandhar, have cleared the national-level National Talent Search Examination (NTSE), the result of which was declared on Saturday. The students are Gurpreet Singh, Hitesh Mahajan, Harinder Singh, Harsimranjit Singh, Jasdeep Singh, Rabia and Ishaan. Saurabh Khanna, a pass out from St Joseph Senior Secondary School, too, has cleared the prestigious examination. | |
Students of CT Institute of Management and Information Technology in an upbeat mood as they take part in a freshers' party in Jalandhar.


Farewell to paper and pen
Some years back kids were meticulously taught the art of writing. In fact, Mahatma Gandhi always regretted not having a good handwriting. Cut to 2015, pen and paper may be mere antiques. These symbols of individual expression may very well become obsolete. Are you ready for this future sans pen and paper? Well, with the invasion of technology it seems that this paperless future is not far off.

Goodbye to the art of writing?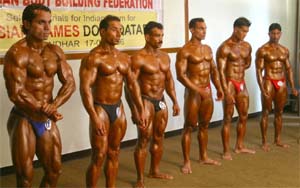 Body builders show their muscles during trials to select the Indian team for the Asian Games 2006 in Jalandhar on Sunday. — Photo by S.S. Chopra
New Sunflower School students bag top positions
Students of New Sunflower School, Satnampura, Phagwara, bagged 12 positions in various competitions organised by the Punjab School Education Board in the district.
Pollywood in the making
Shooting in Chandigarh seems to be the latest fad among the filmmakers. Going by the number of films being shot in and around and with the proposed film city coming up soon, the city would soon be a hub of filmi people.


Aiming high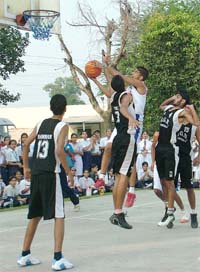 Gurkeerat Singh (man of the tournament) of BSF School, Jalandhar (white), tries to score a basket against MGN School (black) at the BSF campus during the CBSE Sahodaya Basketball Tournament in Jalandhar on Saturday. The BSF boys' team won the tournament 65-42. — Photo by S.S. Chopra
Tattoos express opinions, thoughts
Getting a tattoo is more of a style statement these days with a majority of youngsters in Phagwara sporting at least one. An archaic art form that can be traced back to 3330 BC is now a popular body decoration for many people all around the globe. And it's not just names, or religious symbols like "Om" anymore. Skulls to school emblems to Celtic designs to personalised symbols, tattoos are now being used by people to express themselves, to give meaning to their thoughts and opinions.
Dengue mosquitoes breed in clean, stagnant water
Classic dengue fever is characterised by the acute onset of high fever in three to14 days after the bite of an infected mosquito.
Dress your eyes
The Fall 2006 Eyewear Collection launched by Tommy Hilfiger takes the traditional classics tom new levels with special understated signature details.
Office-bearers elected
A meeting of the Federation of Arhtiya Association of Phagwara was held in Dana Mandi to elect the new office-bearers of the association on Friday. Mr Kulwant Rai Pabbi was elected the president of the association, while Mr Naresh Bhardwaj was chosen as the senior vice-president.