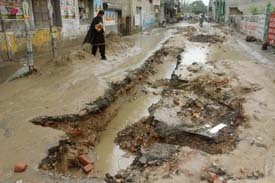 Pedestrians find it tough to pass through the link road connecting the GT Road near Narinder Cinema with the Garha Road. Municipal Corporation staff has dug up the road for laying sewerage lines. Commuters' woes have increased as they are forced to take the BMC Chowk road or the bus stand road. — Tribune photo by Pawan Sharma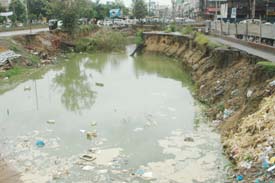 A mishap in the waiting: A deep trench that had been dug up by the MC almost a year back for an underground parking lot near the bus stand has become a pond of sullage. Huge trees along the trench, too, have got uprooted and the parking space has shrunk and commuters' woes have increased. — Tribune photo by Pawan Sharma
Cable users asked to pay
The District Consumer Disputes Redressal Forum on Thursday asked members of the Vasant Vihar Housing Building Co-operative Society to deposit the subscription charges as levied by their cable operators earlier. The different comes to Rs 180 per connection.
Astrologers predict floods
The rare phenomenon of Saturn-Venus conjunction in Cancer occurred on Sunday. Venus and Saturn came in the closest union after 112 years. The rare phenomenon was sighted by naked eyes in Nainital on Sunday on August 27. Next such union will take place after 31years on July 22, 2037.
People's concern
Peer Shah road — a nightmare
Huge potholes on roads of Peer Shah and New Roop Nagar localities near Bhagtanwala are enough to give nightmares to commuters as well as residents, besides presenting a picture of complete apathy on part of authorities.
Bajwa opens road project
The ongoing work on widening the Shambu-Jalandhar road to six lanes and the Ludhiana-Chandigarh highway and the Amritsar-Pathankot road to four lanes would be completed within two years.
Nagar kritan
Religious procession was taken out from Sultanpur Lodhi to Batala in celebrate Guru Nanak Dev's marriage anniversary on Wednesday.
Young World
Sangal delivers lecture on support system
Dr A.L. Sangal, Head of the Department of Computer Sciences, Dr B.R. Ambedkar National Institute of Technology, delivered a lecture on 'Decision Support System' for the students of the Masters in Computer Applications, Guru Nanak Dev University College, Basti Nau. He explained that right decisions taken at the right time helped in achieving maximum results with increased productivity and profitability.
Fear factor
Case 1: Nineteen-year-old Neha finds it difficult to walk around in college because she's self-conscious and feels that people are watching her. Worse, she may run into a person she knows and be forced to say hello to them. She's not sure that she can do this.
From Schools and Colleges: Phagwara
Jr football trials on Sept 1
Trials to select the junior football team of Government Senior Secondary School for Boys will be held at the school playground in Phagwara on September 1, according to Mr Jaspal Singh, a teacher of the school.