Where is the law?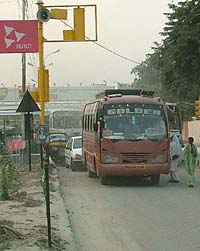 Turning a blind Eye: Private bus operators stop bang in the middle of the road for passengers to board, which translates into more money for them. The traffic chaos in the city is more due to this practice as police and bureaucrats turn a blind eye to them. Many private bus services are owned by ministers, former ministers or their relatives. — Photo by S. S. Chopra
Phagwara Industrial Area faces sea of problems
To say that the Industrial Area at Phagwara is a picture of neglect is no exaggeration. Thanks to the Phagwara Nagar Council's apathy, it increasingly looks like a slum. Life here is hard. The roads are full of sewer water, which has not been cleared for the past two over months. There is stench, and there are mosquitoes and flies hovering all around.
Young World
Fashion show to be held on October 14
A fashion show titled "Fantaseeah - a sage of creation" is being organised by the INIFD at Gymkhana Club on October 14.
Rohini Khurana declared Mrs Karva Chauth
JCI Phagwara Elite Club organised a function on the occasion of Karva Chauth at the local Windsor Palace in Phagwara on Tuesday. Around 32 women members of the club participated in various.
Sahara One to beam to viewers in UK, Europe
Sahara One Media And Entertainment Limited has announced its tie-up with Entertainment and Broadcasting Company Globosat Entertainment.


| | |
| --- | --- |
| | Wildlife enthusiasm or good marketing skills: A roadside seller on the Jalandhar- Amritsar GT Road shows the hardiness of the deer he is trying to sell by sitting on one of them. These deer are made of goatskin, he tells the customers to be on the safe side and not end up in court like Salman Khan and former Indian cricket captain Mansur Ali Khan Pataudi. — Photo by S. S. Chopra |