Is Director of Punjab Agro an imposter?
Almost two years back, Amandeep Mittal was booked by the Bathinda police on charges of impersonating as the 'personal assistant to Sonia Gandhi. Now there are reports that he has been appointment the Director, Punjab Agro Foods.


Take care of Punjab's heritage, says Kavita Chaudhary
Proud of her rich Punjabi heritage, maker of acclaimed TV serials 'Udaan' and 'Your Honour' Kavita Choudhry would next venture into making a Punjabi film 'Sanjh Mohabtaan Di' based on Indo-Pakistan relations. Kavita was in Amritsar, the city of her birth, to receive the Mohammad Rafi Award for her script and direction in the teleserial 'Udaan' by the Mohammad Rafi Memorial Society.



Young World
Conference on bio-technology trends held
Lovely Professional University organised a conference on trends in biotechnology on Saturday. The conference had six schedules, all of which revolved around different aspects of the emerging technology and were addressed by lecturers of the department.



The quiz contest organised by the Business Club of the Commerce Department of Lyallpur Khalsa College in progress at Jalandhar. — A Tribune photo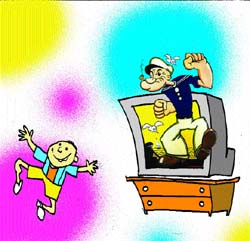 Do cartoons distort young minds?
Six-year-old Anurag of Victoria International Public School, Phagwara, mimics his favourite cartoon "Hum sabse budhdhu hai". Though unable to understand the meaning of words, but he tries to catch attention by aping the toon shows dubbed in Hindi.
From Schools and Colleges
Stone for heritage centre laid at Kamla Nehru College
Mrs Gurkanwal Kaur, Minister of State for Cultural Affairs and Industrial Training, laid the foundation stone of the 'Cultural Heritage Centre' at Kamla Nehru College for Women, Phagwara.
Jassa Singh college set to celebrate 150 years
Historical Nawab Jassa Singh Ahluwalia (NJSA) Government College, Kapurthala, the oldest college of Punjabi, will celebrate its 150th anniversary on September 27 and 28. Set up by Maharaja Randhir Singh in 1856, a year before the first Indian struggle for Independence in 1857, the institution was initially named Sanskrit Vidayalaya.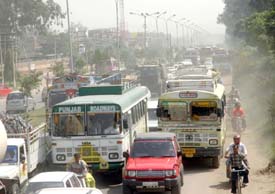 Vehicles stranded in a traffic jam on the Phagwara-Jalandhar GT Road as the road was blocked due to accidents near the BSF Chowk in Jalandhar on Tuesday. — A Tribune photo

Archie to head Gurlz Club
Ms Archie Sehgal has been nominated as the president of the Jalandhar based JCI Jalandhar Gurlz Club for a period of one year.
Tom & Jerry to sell LG products
Popular cartoon characters Tom and Jerry would be the brand ambassadors of the LG Electronics under its 'LG Toon Dhoom' scheme aimed at reaping sales benefits in the forthcoming festive season.
Students come to Seema's aid
Students of the Social Service Group of Business Club, Department of Commerce, Lyallpur Khalsa College, here donated Rs 8,500 for Seema, an acid attack victim.