Sun or Moon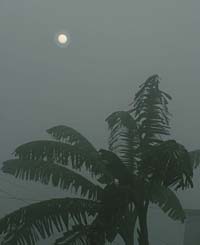 Approaching Winter: The sun weakly makes its way through the fog on Wednesday morning in Jalandhar, signalling the approaching winter. Fog is common in the region in the season. — Photo by S.S. Chopra
Accidental ingestion common in boys
"Male children are two times more prone to ingesting foreign objects as compared to girls, and peanuts are the commonest objects to be accidentally taken in by children." An interesting study regarding this has been conducted by Dr H.J. Singh, a chest specialist and bronchoscopist. His long clinical experience in tackling such cases involving ingestion of foreign bodies also suggests that peanuts, grains and popcorn were more commonly ingested as compared to other inert objects like coins, plastic items, balloons.
Divali with a difference
When residents of the holy city celebrated the festival of lights with their families by distributing sweets and cracking crackers, students of Ryan International School and Ram Ashram School celebrated Divali with a difference.
Market Buzz
IT exhibition from November 3
The Jalandhar Computer Dealer Association represented by IT entrepreneurs will hold a three-day IT exhibition at Shagun Palace from November 3 to 5. Leading IT brands, including IBM, Sony, Canon, Microsoft, Nokia, NIIT, Samsung and LG, are taking part in the exhibition, said member Mr Rajiv Khanna.