Cycle your way to fitness
Statistics point out that every third death is due to heart attack, which can be attributed to our sedentary lifestyle. The younger lot is going the Aamir Khan way and taking to cycling, reports Parbina Rashid
THIS piece of news is for those who think possessing a Hero Honda Karizma (thanks to Dhoom 2) is the ultimate dream come true. The Peace Clubs of different schools have joined hands to observe 2007 as the 'Year of the Bicycle'. And not without reason!


FITNESS FOREVER: Micheleangelo Francis (right) and Jeesu Jawkanwar Singh prefer cycling to driving cars. — Photo by Parvesh Chauhan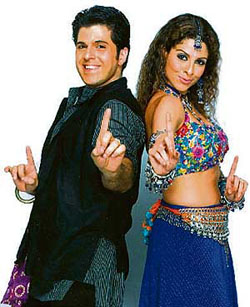 FLYING FEET
The second season of Nach Baliye is on. Gayatri Rajwade visits the sets in Film City, Mumbai, and captures the mood
The candy pink façade of the building says it all. After all, there is a spray of wild magic in the air with silver butterflies and Grecian gowns, ice-blue lights and downy-soft red feathers and bang in the middle of this all is, well, Masterji, resplendent in white and giving the choreographers the telling-off of their lives!

BEST FOOT FORWARD: Contestants boogying their hearts out on the second season of Nach Baliye
Matka Chowk
Street Charity
Sreedhara Bhasin
Since the dip in mercury I see more and more puppies running after strangers. Maybe, they are looking for warmth, or a good home to nestle in when evening falls or maybe some glimmer of hope. When I was a child, I brought home many stray puppies; fed them and bathed them and tied them to a pillar in the verandah.
MINIATURE MAGIC
Smriti Sharma
They don't need the latest machines and technology to transmit their thoughts on paper. Modest in demeanour, their miniature art is marked by sheer simplicity. Meet this team of seven miniature art artistes from Rajasthan who were in the city to participate in a 10-day miniature art camp that concluded on Saturday. The camp was organised by the North Zone Cultural Centre at Kalagram.

CRAFTY HAND: Artists from Rajashtan demonstrate the dying Mewad art at Kalagram. — Photo by Manoj Mahajan
Closer to heaven
Smriti Sharma
In the beginning, gurukuls used to serve as centres of education (we are, of course, referring to the Mahabharata era) and now we have contemporary schools. But our modern-day gurukuls are no longer just about imparting education; they cover areas much beyond that. Ask any school goer what school means to him and chances are that he will mention the extra-curricular activities at his school. So the Pokemon generation loves to take up outdoor activities at school as well like horse riding, swimming, dancing and karate, etc.
Poet of promise
S. D. Sharma


"Meri palkon mein qaid rehte hain, ashq thamte hain na behte hain/Ab naa kheloongi khushbuon se 'Saba' haath ye baar baar chhilte hain." Seeking to articulate such apprehensions of reality in an imposing paradigm of words, a promising city poetess, Rupa Saba, is one of the few female nazm writers in Urdu from the region. Rupa was born in a literary family with a poetic vein and it was natural for her to have an inclination for creative writing from her very childhood. Her mother and mentor, Dr Gurbachan Kaur Nanda, an acclaimed Punjabi litterateur, had a profound influence on the writing prowess of the budding poetess but Rupa was completely enamoured by the richness, felicity and the grandeur of Urdu language. Rupa Saba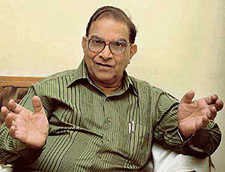 And the show goes on….
Parbina Rashid
For writer, poet and playwright Narendra Mohan, the recent publication of his collected volume does not end his literary journey for what is a Lifetime Achievement Award for an actor is equivalent to the publication of a collected volume for an author. Clichéd as it may sound, he believes that the show must go on. No, not even a controversial Mr Jinnah can come in between. So he returns to the city once again. This time for a reading session for his latest play Natak Jari Hai (tentative title).

Narendra Mohan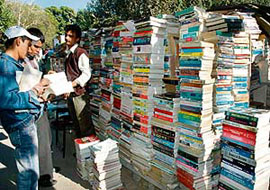 Kitabon ka karobar
Anuradha Shukla
No community in the world probably knows more about the importance of books than the student community. Almost all its choices in life depend on books. Even at a later stage of your life, the scent of books reminds you of those special times. Time spent just flipping through pages of books or reading them seriously is time well spent. Books can be a fulltime occupation for the young—at least it is supposed to be! The student community from the city as well as outside does not have to work very hard to look for good books as the gurukul of books has everything they need.
BOOKS BAZAAR: Students can find all kinds of books in the market at affordable prices. — Photo by Parvesh Chauhan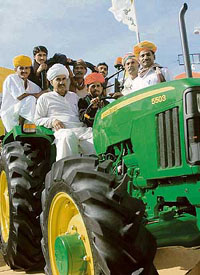 Cultivating pleasure
Growing modernism may not have struck firm roots in the farming sector, but agriculturists from across the country are sure cultivating themselves at the Agro Tech 2006 organised by the Confederation of Indian Industry (CII). And it's not just the new techniques of farming and modern equipment used throughout the world for tilling land and sprinkling insecticides they are learning about. So many of them are actually enlightening themselves about the new crop of pretty girls in hybrid clothes standing behind the counters!
Topping excitement

Oh, Dear!

Rooted in technology
---