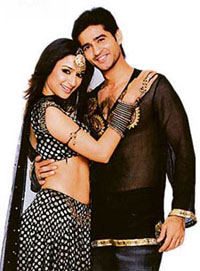 BEST FOOT FORWARD: Contestants boogying their hearts out on the second season of Nach Baliye
The second season of Nach Baliye is on. Gayatri Rajwade visits the sets in Film City, Mumbai, and captures the mood
The candy pink façade of the building says it all. After all, there is a spray of wild magic in the air with silver butterflies and Grecian gowns, ice-blue lights and downy-soft red feathers and bang in the middle of this all is, well, Masterji, resplendent in white and giving the choreographers the telling-off of their lives!
All in a day's work we are assured and how cool it is that we wonder—as the stars dress up, their choreographers get a dressing-down!
Wondering what all this is about?  Think dance unlimited, stars galore and spiff unrestrained as Star One's Nach Baliye (season 2) takes a merry bop across the haloed boulevard of television ratings and boogies closer to its grand finale in just a few weeks from now.
The show is down to its final four jodis and as the lights beam, the cameras roll and action booms out from the megaphone, a quiet, verdant corner of Film City in Mumbai perks up to the buzz and bounce of dance—in mast style and it all starts with fur!
Buzzing of busy bees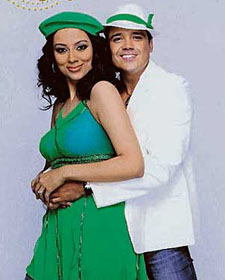 Dressed a la Jeetendra style (all white!) complete with fur on collars, lapels, boots et al, episode anchors, fellow-actors and husband and wife team, Apurva Agnihotri and Shilpa Saklani, have just about shed the fleece (kind courtesy a rather practical producer!) that the judges line up for the jazz!
Yes, Saroj 'Masterji' Khan is quite the eye-catcher, what with her large butter fly earrings and director Kunal Kohli does look rather snazzy in his rose-tinted tie & dye shirt but it is style diva Malaika Arora Khan, "going green with envy" to quote her, who does quite a number in her gorgeous emerald gown showing off her tiny waist to perfection.
The dazzle is mind-boggling and it is one big happy family from where we see it. The production crew, a bevy of young 20-somethings and 30 pluses, all mill around in raucous amity, briefing and de-briefing, dunking down endless cups of tea and tweaking up audio levels. The dance floor gets a final swipe to rid it of non-existent dust-balls, a make-up man falls off the set, gold patterned stars dance on the wooden floors, the disco lights twirl under the feet of the judges and the show is ready to roll.
But first things first. A quick dekko at the starry contestants down to four couples from 10!
Boogying Couples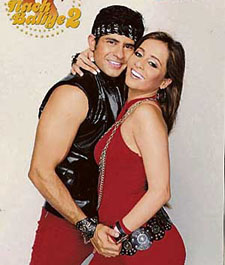 Capturing the imagination of viewers across the country is 'non-actor' Tina, none other than Hussain 'Shabash India' Kuwajerwala's petite, pretty wife who quite expected to get the boot in the very first round but ended up with the votes instead!
"I really believed that unlike the other couples participating, we could only rely on the votes that Hussain would get from his fans, but we have come this far and it has been a huge surprise," she smiles. College sweethearts, who got married just last year after a nine-year courtship, are thrilled with just the chance to be with each other even if it means just practising endlessly to dance. So keen were they to be a part of this show that Tina at the behest of her husband even considered doing a bit role in a serial so that when the selections came up, Nach Baliye would deem her 'eligible'! Never mind all that, she did get an offer on the show and here they are in the quarterfinal round shaking their booty.
For Gauri Pradhan and Hiten Tejwani (Kahani Ghar Ghar Ki) dance was not the guiding force as were their numerous fans. But with their spirited manoeuvers not only have their fans grown but also their confidence and ability to shake a leg! "So here we are shooting our serials by day and rehearsing by night," they smile. But ever the perfectionist Gauri has to get every single move spot on while Hiten prefers to go with the flow. Having said that, Hiten remains wise to the vagaries of marriage! "Two and a half years of being married has taught me that wife is always right, so if she stops rehearsals to make me hold her hand just so, I say okay and start again and again and again," laughs Hiten.
As for Gouri and Yash Tonk, Nach Baliye brings them right back where they started (they met during the shoot of Kahiin Kissi Roz), in the limelight while for Tanaaz Lal and Bakhtyaar Irani, life is one big red rose, what with waiting for the show to finish before finally tying the knot!
Starburst
However, it's back to the performances where not only do the contestants compete, even the choreographers get to strut their stuff and what is on offer is lots of bling, some Spanish flings, loads of hot leather and tiger prints and yes a presentation that gets the five hundred rupee appreciation notes floating. "No words can describe this (dance)" says Saroj Khan to the very yo Harshal and Vitthal (Tina and Hussain's choreographers). But, no more! See it for yourself as the stardust sprinkles down, the music sweeps you away and the heart feels the beat of dance.
Watch the excitement of Nach Baliye on Star One at 8:30 pm on Monday, December 4.