PROTEST against TATAs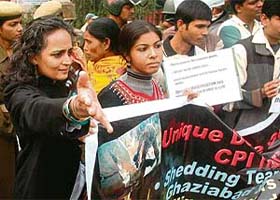 Writer and social activist Arundhati Roy, with activists of the National Alliance of People's Movement and other organisations, takes part in a protest against the West Bengal Government's decision to hand over farmland in Singur, West Bengal, to Tata Motors in New Delhi on Thursday. — Tribune photo by Mukesh Aggarwal
Bypoll Results
Cong wins Bobbili, TRS retains Karimnagar
Hyderabad, December 7
The Congress has added one more seat in the Lok Sabha by winning the Bobbili seat while Telangana Rashtra Samithi retained the Karimnagar seat in the byelections held last Monday.
Congress creates ruckus on Gujarat
New, December 7
Members belonging to the ruling Congress today forced an adjournment in the Rajya Sabha for 15 minutes, insisting on raising the Gujarat issue in zero hour mentions.
200 TMC workers hurt in police lathi charge
Kolkata, December 7
A large number of Trinamool Congress workers and supporters, accompanied by the workers of 18 other like-minded parties supporting the cause of the evicted farmers, began their march to Singur from Baidyabati, Hooghly, around 2 pm today.
Time for new friends, says Jayalalithaa
New Delhi, December 7
Former Tamil Nadu Chief Minister and AIADMK supremo J. Jayalalithaa, who met Samajwadi Party (SP) chief and Uttar Pradesh Chief Minister Mulayam Singh Yadav yesterday, said today that political realignments were on the anvil both at the national and state levels.
Speaker continues to face BJP's wrath
New Delhi, December 7
A BJP Lok Sabha MP today carried forward his party's fight against Speaker Somnath Chatterjee by accusing the chair of deliberately denying opportunity to the Opposition for putting supplementaries queries during question hour.
'Errant' Bihar politicians unnerved
Patna, December 7
The proverbial long arm of law seems to be finally catching up with "errant" politicians from Bihar. The firm stand by Chief Minister Nitish Kumar who has assured a "free hand" to the authorities to book the guilty coupled with a proactive judiciary has understandably send these politicians, both from the ruling party and the Opposition, into a tizzy.
Siddaramaiah scrapes through in Chamundeshwari
Bangalore, December 7
The ruling Janata Dal (Secular)-BJP combine and the father-son duo of former Prime Minister H.D. Deve Gowda and his Chief Minister son H.D. Kumaraswamy suffered a blow today when former Karnataka Deputy Chief Minister and Congress candidate Siddaramaiah won the Chamundeshwari byelection by a wafer thin margin of 258 votes.
Double blow for Sena, more to follow
Mumbai, December 7
Dissident Shiv Sena leader-turned-Congress politician Narayan Rane scored another victory by bagging both the Daryapur and Chimur seats in Vidarbha, byelections to which were held earlier this month.
Uttaranchal renaming Bill passed in RS
New Delhi, December 7
The Bill pertaining to renaming of Uttaranchal as Uttarakhand got the nod of Parliament today with the Rajya Sabha passing it through voice vote. The Uttaranchal (Alteration of Name) Bill, 2006, was adopted by the Lok Sabha on Tuesday.
Climate change: Large investment, technology need of hour
New Delhi, December 7
Despite being a global leader in clean defence mechanism (CDM) projects, India appears to be attracting very little foreign money or technology in the sector.
No hike in MPLADS fund: Centre
New Delhi, December 7
The government today ruled out increasing the amount of MPLADS fund saying its primary concern was accountability and transparency. The Minister for Statistics and Programme Implementation, Mr G.K. Vasan, said in the Rajya Sabha that 79.70 per cent of the funds sanctioned had been utilised and 60.87 per cent works had been completed.
Taj wonder awaits online vote
New Delhi, December 7
All those wanting to see India's world famous monument to love - the Taj Mahal - become one of the new seven wonders of the world, log on to the website of the New7Wonders Foundation, www.new7wonders.com, and vote for the Taj.
Navy not to shift airport out of Goa
Mumbai, December 7
The Indian Navy has refused a demand by the Goa Government to shift its airport out of the state following the commissioning of its Seabird naval base at Karwar in Karnataka.
TN House's plea on Tamils in Lanka
Chennai, December 7
The Tamil Nadu Assembly today urged the Centre to find an early solution to the ethnic problems of Tamils in Sri Lanka. Legislators of various parties expressed concern over the recent escalation of violence in the island nation and the influx of refugees into India.
EC clears Ramadoss in OoP case
New Delhi, December 7
The disqualification petition against Union Health Minister Anbumani Ramadoss in the office of profit case is understood to have been dismissed by the Election Commission.
Shahabuddin lands in fresh trouble
Patna, December 7
RJD MP Mohammad Shahabuddin, who is facing over a dozen criminal cases including sedition, has landed in fresh trouble when a district court today issued a production warrant against him in a case related to someone else appearing on his behalf during a law examination last year.
Bollywood shutdown for Dutt on Dec 12
Mumbai, December 7
Bollywood will shut down on December 12 to express the film industry's solidarity with actor Sanjay Dutt. Though acquitted of terrorism charges by the TADA court, the actor has been found guilty under the Arms Act for keeping an automatic assault rifle and a 9 mm pistol.



Videos
Rajkot woman gives birth to quadruplets.
(56k)
Trinamool-led alliance to march to Singur.
(56k)