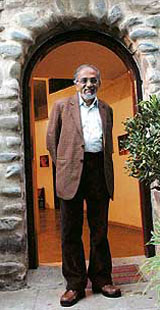 Back to the roots
Kumara Varma talks to Parbina Rashid about his dreams of going back to Kerala after he bids adieu to the Indian Theatre Department of Panjab University in April next
HE came from Mavelikkara in Kerala to Chandigarh with a dream to teach whatever he had learnt at the National School of Drama in New Delhi. It was in 1973 that he first stepped into the city to work with Balwant Gargi. He taught and he learnt, for as long as 34 years in the Indian Theatre Department of Panjab University. But his dreams are not yet over. Only this time, they are taking him away from us – taking him back to "God's own country". Kumara Varma
Matka chowk
Sarkari tarika
Sreedhara Bhasin
Last year, I was at a CITCO cafeteria, trying to get myself a cup of coffee. I paid for a cup of 'coffee', using the generic name. I was given a coupon for coffee against my payment. As I walked over to the coffee dispenser, I asked for a coffee without sugar, my usual. The attendant looked at my coupon with great concentration and said – "Yeh galat coupon hai."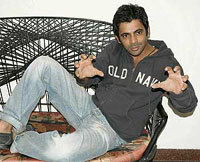 Lallan comes calling
Smriti Sharma
He doesn't like being known as a 'comedian' (rather an 'Entertainer') and yet he manages to tickle your funny bone. He doesn't have a mentor but likes Peter Sellers for his versatility in bizarre comic situations and given a chance he would love to put an act together the way he did in Pink Panther, the movie series. He is Lallan aka Sunil Grover from Chandigarh actually Punjab, he quickly adds. "I studied in Chandigarh and this is my City". His Lallan act (one man show as he likes to call it) on Filmy Channel has become a household name now.

FUNNY SIDE UP: Sunil Grover comes to city to promote his film Baabul. — Photo by Manoj Mahajan
Fun with fashion
Get glitzy
Anandita Gupta
The City Beautiful's appetite for life seems immense, especially when we look at the party circuit here. Even in this biting chill, when all one can think of is getting wrapped up in a snug quilt, drinking that adrak wali chai, Chandigarh fashionistas are busy partying, and yes, flaunting that glam looks around.
Sabse fav
Smriti Sharma
The bandwagon arrived in the city amidst all the hype and hoopla. And this is not just any other promotional campaign. This one is Star Gold's opinion poll SabseyFavourite Kaun that is all set to come back on Star Gold in December 2006 and this time on an international level. In a young crowd in Sector 8, the 'Fan Van' arrived with all its crew after travelling to Rajasthan and UP. After getting the forms from the Fan Van to vote for their Sabse favourites, movie buffs from the city cast their votes as well.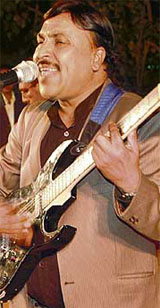 Mera naam Jacob
Smriti Sharma
He started his career as a singer at the time when there were only a handful of music takers. Only a few thought that singing was a respectful line of work and that is what struck him. He still aims to prove his mettle in singing and earn respect. Perhaps one of the oldest singers in Chandigarh, Naresh Jacob started singing in the early eighties and formed a band called 'Vibrations'.

STRIKING THE RIGHT CHORD: Naresh Jacob
Write to Renee
Give meaning to your existence
I am in my mid-thirties and have this problem of not being able to sleep. Although there is no reason for me to be stressed I feel that the moment I go to bed I start feeling wide-awake. The strangest of thoughts start racing in my mind. The next morning I am tired and listless and have no energy at all. In spurts I can manage to sleep during the day but I seem to dread the night as I feel I am going to be awake again. I have everything going in life a nice husband, two kids in the boarding school, a beautiful home and a fairly comfortable set up. I am looking for more meaning in my life. I keep wondering as to what is the purpose of my existence and why am I here at all. These questions bother me the most when I seem to lie in bed.
Radio hoaxes and pranks
Tuning-In with Hardeep S. Chandpuri
Radio hoaxes are as old as radio itself. Sometimes radio jockeys, looking for more ratings and listeners, have perpetrated them intentionally. But, other times radio has simply been the medium where a single phone call or a smart and creative bystander innocently started them. Usually these kind of hoaxes are a part and parcel of Fool's Day specials but, their use or misuse cannot be ruled out on other days too.
FILM REVIEW
High on emotion
Baabul released on Friday at Piccadly Chandigarh, Fun Republic Manimajra and K C Panchkula is a B R Chopra film and that raised huge expectations. The filmmaker has once again trusted the reliable pair of Amitabh Bachchan and Hema Malini as the lead pair of the film after much acclaimed Baghbaan. Baghbaan was an eye opener about depressed parenthood then Baabul is a tearjerker. The viewer comes out of the cinema hall little satisfied. To begin with the story is just okay — for a director Ravi Chopra film — a typical family drama.
---