Kumara Varma talks to Parbina Rashid about his dreams of going back to Kerala after he bids adieu to the Indian Theatre Department of Panjab University in April next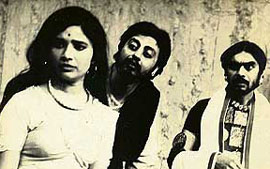 HE came from Mavelikkara in Kerala to Chandigarh with a dream to teach whatever he had learnt at the National School of Drama in New Delhi. It was in 1973 that he first stepped into the city to work with Balwant Gargi. He taught and he learnt, for as long as 34 years in the Indian Theatre Department of Panjab University. But his dreams are not yet over. Only this time, they are taking him away from us – taking him back to "God's own country".
Getting ready to bid adieu to the department in April next, Kumara Varma does not paint the picture of a man who is at the end of his career. In fact, as he shares his dreams with us, he fills the atmosphere with so much 'positivity' that one cannot help but support his decision to resettle himself, though it means missing him from Chandigarh's own theatre circuit.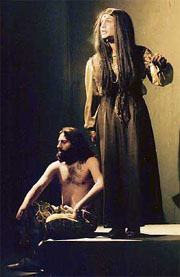 THE SHOW GOES ON: After staging memorable plays like Ashadh Ka Janvadi(top) and Leedli Nagari ki Neeti Katha, Kumara Varma is all set to start a new innings in his home state Kerala. — Photo by Pradeep Tewari
"I feel so nostalgic about the whole thing, leaving Chandigarh and going back to my own place," says Kumara Varma, setting the conversation in motion. But according to him, now is the payback time, "I want to work in my own language. I feel I owe it to my people, my place."
Varma has selected Thrisoor as his work place. "Thrisoor with its academic environment is the most happening place," he says. But there is another factor that links Varma to Trisoor, the cultural capital of Kerala. "This is also the place where I had done my studies before coming to NSD," he adds with a smile.
We understand his enthusiasm to go back to his native place but wonder if he is ready to face the changing scenario in Malayalam theatre, especially now that he had stayed away from it for so many years?
"In reality I never lost touch with Malayalam literature. I subscribe to all the major magazines and buy books. I actually have a well-stocked library of Malayalam books and magazines," he says.
Neither did he give up his contacts with Malayali literary figures, i.e., people he came into close contact with during his NSD days. "During the sixties the hub of Malayalam literature was not Kerala, but Delhi. Legendary writers like the late O.V. Vijayan, M. Mukundan, Kakkanadan and Kavalam Narayana Panikkar were part of the Kerala Club in Delhi.
As a student of NSD, I was part of the circle and meeting such writers had greatly influenced me," says Varma. Perhaps this is the reason that influenced Varma to take to translation work. He recently translated one of M. Mukundan's novels into Hindi, which was staged by the NSD last year under the title Ek Dalit Yuvti Ki Dukh Bhari Dastan.
"I have recently discovered that I enjoy doing translation work. It is indeed a challenge to leave one's mark as a writer while translating a novel and remaining true to the original author," he says. But then looking at his career graph, which include directing more than 35 plays (Raja Oedipus, Urubhangam, Abhinjana Shakuntalam, Aashadh Ka Ek Din, Agg De Kaleere, Leedli Nagari Ki Neeti Katha to name a few), a majority of the plays had been translated by him.
Apart from his desire to give something back, there are a few other factors that are luring him back to his native land, like Carnatic music and the folk theatre forms like Kathakali, which he wants to experiment with.
And guess what, he is picking up elements from Punjabi literature and Sufi music to take back home. So we ask him if Malayalam theatre will witness some North-South fusion work? "Not consciously but maybe subtle fusion will be there as so many aspects of Punjabi way of life have been ingrained in my mind now," he assures us.
So with the bubbling enthusiasm, there is a pang of sadness that comes from having to leave the city, which he had adopted as his work place for so long.
"That goes without saying. Once I get there, I know I am going to miss this place— its architecture, its people but most of all, my students."
We will miss you too Varma, whom we knew as a teacher, a talented director but, most of all, a fine human being!