Young World
Research prize for DAV school students
Tribune News Service
Two students of Police DAV Public School have won the first prize in computer science category at a national-level fair "Initiative for Research and Innovation in Science (IRIS)" organised jointly by Intel, the CII and the Ministry for Science and Technology at the IIT, Delhi.
Harinder Pal Singh and Ravneet Kaur, both students of plus two (non-medical), along with their guide, Mr Anuj Sharma, participated in the contest. The students designed a project related to computerised signature verification, using different mathematical parameters. The students said they used two methods for signature verification, one of them was feature-based and the other one geometrical centre-based.
The equipment could be used to prevent random, simple as well as skilled forgery. The students said 1300 projects had been received at the fair of which 185 were selected for the final round. The panel of judges included 20 scientists from different institutions. Ms Rashmi Vij, Principal of the school, congratulated the winners.
Solar energy for electronic gadgets
A second year student of mechanical engineering from CT College of Engineering has come up with a solution to power cuts by using solar energy for running electronic gadgets. Varun Saini, the student, has designed a solar power system which has been installed in electronics shop of CT Engineering College workshop for supplying electricity to carry out soldering and other laboratory related experiments which consume less than 100 watts of power.
Applying whatever knowledge he had gained and taking the help of faculty and facilities available at the campus, he started building a model of solar house. The system that he devised comprises a solar panel, charger and battery which can run three tubelights, one fan and two soldering irons simultaneously. The electricity generated in the solar panel is used for charging the battery and battery supplies DC current to the appliances, the student explained, adding that the supply from battery could also be given to rectifier which could convert DC into AC current.
Mr Ashwini Sharma, HOD, mechanical, said that the student had completed he project in two months. He said that he was now planning solarising all electronics laboratories and equipments consuming less that 100 watts of electrical power in the institute. He said that the same concept could be used in home replacing inverters.
Conserving power
The Punjab State Electricity Board organised a paper reading contest at Innocent Hearts School on the topic, "How and why to conserve electricity". Nearly 18 students presented their papers. The first prize went to the host team, followed by Police DAV Public School and Seth Hukum Chand School. Mr Gurprit Singh Gill, Chief Engineer, Jalandhar region, Mr B.S. Sekhon, Superintending Engineer, and Mr Gopal Sharma, Senior Engineer, were present on the occasion.
Yogasana contest
An inter-school Sahodaya yogasana contest was organised at Innocent Hearts School. As many as 80 children from six schools affiliated with the CBSE participated in the contest. The running trophy went to the host team. Performer's position was bagged by Police DAV School.
Human Rights Day
Students of State Public School, Jalandhar Cantonment, organised a road show in Sofi Pind, Deep Nagar and Cantonment Market on the occasion of World Human Rights Day on Sunday. The students held banners highlighting the importance of the day and distributed leaflets to the people consisting of list of rights given by the UN. Students interacted with the masses and educated them about their rights and duties. Dr Narotam Singh, principal, flagged off the rally.
Annual function
Kids Dotcom School, Shivaji Park, organised its annual function at Red Cross Bhavan on Saturday. Mr Gaurav Gulati, principal, read the annual report. Kids from pre-nursery and nursery classes performed jungle dance. A pari dance was followed by a group dance on "Let's go party tonight". The programme ended with bhangra on Punjabi number "Gabru".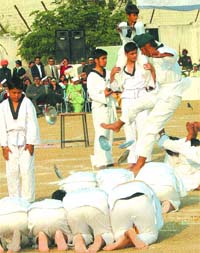 A show of marshal art during the sports day of Delhi Public School in Jalandhar on Friday. — Photo by S.S. Chopra
Sports day
Delhi Public School hosted its annual sports day on Friday in the school premises. The event was replete with a plethora of activities like athletics, aerobics, pyramid display, yoga display, taekwondo, mass PT, dandiya and bhangra. Dr A. R. Kidwai, Haryana Governor, was the chief guest. The guest of honour was Mr A.P. Pandey, DGP (prisons), Punjab.
Placement
Cipla, a pharmaceutical company, organised a placement programme at Lovely Institutes. Students of pharmacy and ayurveda participated in the event. While 70 students appeared for the test, 56 managed to clear the first round and 14 were shortlisted later.