Clockwise

: Traffic moves at snail pace on Bhagwan Mahavir Marg while Vikas Yatra moves ahead on Tuesday. Hoardings add to confusion at Basti Adda, fire station, Jyoti Chowk on GT Road in Jalandhar on Monday. — Photos by S.S. Chopra
Hospital upgraded; patients continue to suffer
Despite the state government has been spending crores of rupees to provide better health services in the state, yet health services here are in a shambles. The 50-bedded government Civil Hospital here, which had been upgraded to 100 beds about a year ago, is still not operating to its full capacity.


Cycling to heart's content
Despite the fact that he has once suffered a heart attack and had a bypass surgery, this 81 -year -old NRI can beat most youngsters in cycling. Mr Makhan Singh Roy, putting up at his native village Paragpur here, pedalled all the way from his home to The Tribune Press at Bulandpur village, Pathankot Road, and further on to The Tribune office on Ladowali Road in less than two and a half hours. Makhan Singh Roy
Young World
Research prize for DAV school students
Two students of Police DAV Public School have won the first prize in computer science category at a national-level fair "Initiative for Research and Innovation in Science (IRIS)" organised jointly by Intel, the CII and the Ministry for Science and Technology at the IIT, Delhi.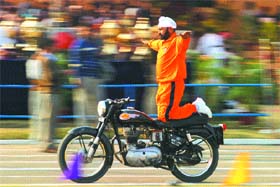 DAREDEVIL: A Punjab Police jawan performs a daring act during the concluding ceremony of the police games held recently on the PAP campus in Jalandhar. — Photo by S.S. Chopra
Need to identify allergens
Identification of correct allergens can cure a large number of asthma patients even without medication. Stating this, Dr H.G. Varudkar, Professor and Head, Department of Pulmonary Diseases, Dr D.Y. Patil Medical College, Pimpri, said all asthmatic patients should demand their doctors to identify the allergens correctly.
2 killed in road accidents
Two persons were killed in separate road accidents in here today. In a freak accident, Naginder Kumar, a migrant from UP and a resident of Model Town here, was hit by a bus when he fell off the rickshaw he was riding. The rickshaw had overturned due to some mechanical fault.
Citizens' Corner
The Tribune is starting a column providing residents of Jalandhar and its neighbourhood an opportunity to highlight their problems, which are of a public nature.