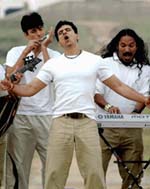 Euphoria to rock Jalandhar
The city youth rock with Euphoria, a versatile Indi-pop band, which will perform Live at Apeejay College of Fine Arts on Sunday evening. The band calls their melody and lyrics "Hind Rock". Their style is a refreshing alternative to the dominant Indian film or classical music and has helped them create an audience for themselves. Mixing electric guitar with traditional instruments like tabla, dholak and sitar to create mesmerising musical effects, Euphoria was among the first to bring rock culture to India. Euphoria's first album was titled 'Dhoom', followed by 'Phir Dhoom', 'Mantra' (single) and 'Gulley'. Their latest album called "Mehfuz" was released this year.


Young World
Kindergarten students impress audience
Little Blossoms School organised its annual day, Saturnalia, on Wednesday at Urban Estate, Phase-II. Pre-nursery and nursery students enthralled the audience with their power-packed performances.


Tiny tots of Little Blossoms School put up a show signifying the importance of Planet Earth in Jalandhar. — Photo by S.S. Chopra
Cadets educated on social evils
A "run for fun" race was organised at Guru Gobind Singh Khalsa College, Mahilpur, on Thursday. NCC cadets from various colleges of Phagwara participated.




Mr A.S. Randhawa, Principal, Guru Gobind Singh Khalsa College, Mahilpur, flags off "run for fun' at Mahilpur on Thursday.
Demand to shift labour court
The Bar Association Labour Court has demanded to shift labour court from rented accommodation in Green Model Town to Old District Courts complex.